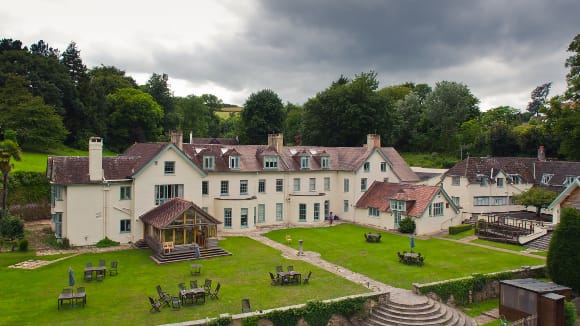 We've added another amazing venue to our selection of large houses to rent for special celebrations.
Privately situated in six acres of beautiful gardens and grounds, within Exmoor National Park, this rambling country mansion can be self catered or fully catered and is the perfect venue for anything you want it to be.
With a number of onsite function rooms seating 10-100 people, it's a prime spot for a party. It's a conference or seminar centre. It's perfect for family events and wedding celebrations. It's a place to get together, or be apart. It's ideal for yoga, dance or celebrations. Mostly, it's a wonderful place to relax and have fun with up to eighty of your nearest and dearest in a glorious slice of rural England.
Facilities include an outdoor heated pool, a spa and games barn with table-tennis table.
Through the centuries, events and people have shaped the story and the appearance of this wonderful house, giving it a unique warmth and soul that is immediately felt as you enter this truly beautiful building. See the full details of this fantastic house here