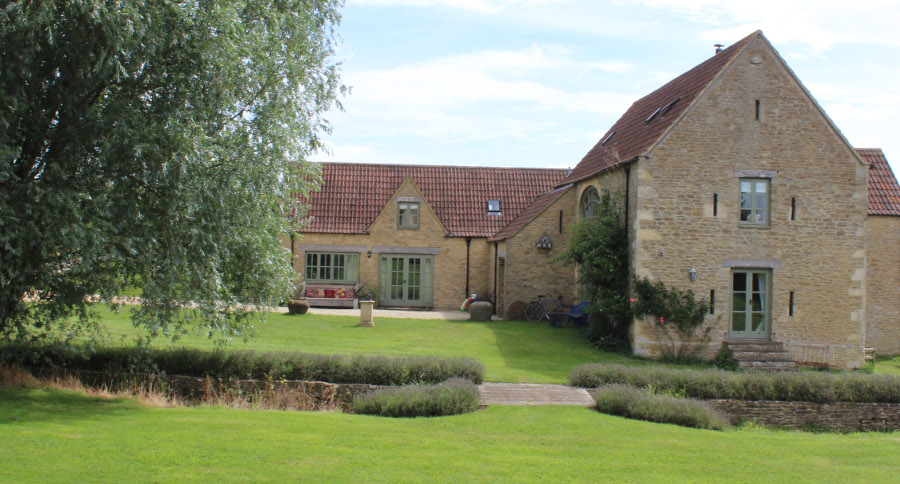 About this property
Location: Nr Malmesbury. 6 bedrooms, (one on the ground floor) 3 bathrooms, 1 cloakroom, sleeps 16 guests. There is an additional attic room with two single sofa beds that would be suitable for 2 children, the house would then sleep 16. This lovely old stone barn, which was converted in 1994, is an ideal private hideaway for family gatherings or groups of friends looking to get away from it all.
This property occupies a very quiet setting down a long drive amidst unspoilt countryside and there is a large gravelled driveway for easy parking. The old market town of Malmesbury is a short drive away and has a good range of shops and services. The towns of Tetbury and Cirencester are also nearby.
Gallery
---
Watch this video to see the interior and exterior of the property

---
Accommodation…
The property is set in three and a half acres of land, surrounded by fields, yet close by to Tetbury and Highgrove, the latter being home to HRH The Prince of Wales and many other wonders of the Cotswolds. Tastefully and completely refurbished, the property combines the original features of the barn with contemporary décor. Two large arched windows have replaced the original entrances, allowing light to flood in, and the original beams and slotted windows have been kept as they were, in keeping with the style of the property. Sophisticated boho chic furnishings, give each room individual style, creating a warm, inviting and unique home, designed for fun and relaxation.
Just outside the dining room and kitchen, is a sunny patio that is ideal for barbecues in the summer and the extensive garden is the perfect place for a spot of croquet, badminton, football, table tennis and more. The lavender bordered stream is an additional glorious feature along with a bridge to safely cross it.
GROUND FLOOR
The entrance hall is elegant, mirroring that of a London boutique hotel, and leads on to the left wing of the house. To the right is the cloakroom, along with a croquet set, and further along a downstairs loo and utility room. Opposite is the drawing room which combines warm coloured furnishings with big sofas and chairs to comfortably seat 14 people. There is a state of the art electric wood burner which blasts out warmth and has crackling flames. It nestles beneath a Bath stone fire surround, above which is the latest Sony digital, Sky, flat screened television with a sound bar, which also has blue tooth, should you wish to play your own music. The garden can be easily accessed via French doors.
BEDROOM 1
Upstairs is the master bedroom which comprises an emperor sized bed, a Panasonic Sky digital television, a free standing bath with views through the window, a stunning antique mirrored dressing table, a mirrored walk in wardrobe, a bathroom and a private balcony that leads to the garden down some steps. To the right of the steps is an area for a hot tub.
GROUND FLOOR cont/…
To the right of the front door is the stunning flag stone floor kitchen. There is a marble island in its centre with a hub and oven and to the right is an Aga. At the far end of the kitchen there is a white limed table that seats 8 and a door behind leads to a spacious patio, complete with oak tables and chairs for 14 people and a unique barbecue in the form of a copper bowl with a grill on top. The beauty of it is the coals will keep burning and you can snuggle up round it, keeping warm as the sun goes down. The kitchen is fully equipped with all the necessary mod cons for cooking. There are two fridges, one being a Smeg and the other is a large wine cooling fridge in which you can also store any extra food or drink should it not all fit in the Smeg. There is also a wine rack which holds 84 bottles of wine.
Leading through from the kitchen is the fabulous dining room with a high white beamed ceiling and an expansive glass arched window, draped with a gorgeous translucent voile curtain, which creates exotic patterns on the walls when the sun shines through. Huge colourful abstract paintings and a large mirror add to the glorious atmosphere. The oblong dining table fills the room giving each guest plenty of elbow room to dine in comfort and there is a tall bluetooth speaker for background music. A door with steps leads down to the patio area of the garden.
BEDROOM 2
The second hallway can be accessed from the dining room in the right wing of the house and from the kitchen. The huge arched window has a door leading to the garden and to the left of it is a luxurious, opulent bedroom with gorgeous paintings on the walls, which sleeps three people. There is a digital Panasonic Sky television and a wood burner. Again, French doors lead to the garden.
FIRST FLOOR
Steps opposite the arch lead up to the first floor where, at the top, you can look down through a glass arch to the dining room and the walkways with bannisters open up the centre of the barn.
BEDROOM 3
This bedroom is elegant and stylish. It boasts an enormous headboard with matching window seat and blind. The double bed can be converted to twin beds if necessary. There is an en-suite bathroom with panelled bath and shower and is painted to compliment the colours of the bedroom.
BEDROOM 4
The original wall of the barn has been kept along with the original slotted windows. There are three beds with matching blue and white headboards and a beautiful handmade rag rug on the floor. The colours of the room are designed to enhance the character of the converted barn. A stylish bathroom is next door, again with panelled bath and shower and a mirrored cupboard and light above the sink.
Next to the bathroom is a walkway which leads to the master bedroom. It also acts as a den should anyone want a secret hideaway.
SECOND FLOOR
This comprises the fifth and six bedrooms and a loo with washbasin with a wonderful walkway between the rooms with bannisters, thus opening up the space of the barn.
BEDROOM 5
This is a twin bedroom with union jack bedspreads and matching blinds over the skylight windows. The sloping walls either side of the bed are in keeping with the barn, giving the room atmosphere and the original slot window has been kept as it was between the beds, enhancing the character of the room. It has a beautiful chest from the Far East and mirror above it and there is a stylish hat stand to hang spare clothing.
BEDROOM 6
This bedroom has a lovely cosy feel with a brass double bed and antique bedside tables with pretty lamps that cast a warm glow. It too has a chest from the Far East and a dressing table opposite along with skylight windows, one in particular giving a wonderful view of the garden.
---
All Rooms Are Supplied With…
Bedrooms – Crisp white linen, towels, dressing gowns, slippers, hairdryers
Bathrooms – Cleansing wipes, toilet rolls, liquid soap and shower gel
Kitchen – PG tips/Earl Grey tea, granulated coffee, milk, sugar, salt, pepper, herbs and spices, bags of ice, dishwasher tablets, washing up liquid
Services On Request…
Why not order your groceries on-line and have them delivered to the house prior to your arrival. We will take delivery of your shopping and unpack it all for you at no extra charge.
On your arrival we can supply a celebration balloon arrangement with a bottle of bubbly and chocolates to welcome you.
If you would like exceptionally delicious meals that you can pop in the Aga and cook from frozen, please call professional cook Uma Howard 01666 503071.
Facilities Include…
Aga, Oven, Hob, Microwave
Dishwasher
Smeg Fridge + Tall Bosch Fridge
Utility Room with large freezer, washing machine + washing powder, tumble dryer
Satellite broadband/Wi-Fi
4K Ultra HD SKY wall mounted television with sound bar in sitting room
Digital Sky television with Blue Ray DVD in downstairs bedroom
Digital Sky television with DVD player in master bedroom
Bluetooth sound system in dining room
Pool table and table football
Wood burner in downstairs bedroom (wood provided)
Electric wood burner in sitting room
Hot Tub hire available on request
In the Garden
14 ft trampoline with surround
Table Tennis plus bats and balls, Badminton set, Croquet set. Tennis racquets and balls provided for local tennis courts
Small football pitch with goals
Bicycles
BBQ plus coals
Garden Furniture
Plenty of private car parking spaces
Restrictions…
Pets are negotiable
No Smoking
---
Pricing for PMHouse026
To sleep up to 12/14 Guests
From £2,300 for a two night stay depending on group size
Week stay – £4,750
Bank holiday, Christmas and New Year varies please contact us for prices
Christmas 2018 – £4,508 (minimum 4 night stay)
Additional Information
Cleaning charge £150
Please note:
£750 refundable damage deposit is required.
There is a minimum two night stay at weekends – one night can be booked but will be charged for two nights.
Please call Cazz on 07966 443 536 or use the contact form to confirm availability and pricing.
Contact Us
---
Availability for PMHouse026
January 2021
M
T
W
T
F
S
S
1
2
3
4
5
6
7
8
9
10
11
12
13
14
15
16
17
18
19
20
21
22
23
24
25
26
27
28
29
30
31
February 2021
M
T
W
T
F
S
S
1
2
3
4
5
6
7
8
9
10
11
12
13
14
15
16
17
18
19
20
21
22
23
24
25
26
27
28
March 2021
M
T
W
T
F
S
S
1
2
3
4
5
6
7
8
9
10
11
12
13
14
15
16
17
18
19
20
21
22
23
24
25
26
27
28
29
30
31
April 2021
M
T
W
T
F
S
S
1
2
3
4
5
6
7
8
9
10
11
12
13
14
15
16
17
18
19
20
21
22
23
24
25
26
27
28
29
30
May 2021
M
T
W
T
F
S
S
1
2
3
4
5
6
7
8
9
10
11
12
13
14
15
16
17
18
19
20
21
22
23
24
25
26
27
28
29
30
31
June 2021
M
T
W
T
F
S
S
1
2
3
4
5
6
7
8
9
10
11
12
13
14
15
16
17
18
19
20
21
22
23
24
25
26
27
28
29
30
July 2021
M
T
W
T
F
S
S
1
2
3
4
5
6
7
8
9
10
11
12
13
14
15
16
17
18
19
20
21
22
23
24
25
26
27
28
29
30
31
August 2021
M
T
W
T
F
S
S
1
2
3
4
5
6
7
8
9
10
11
12
13
14
15
16
17
18
19
20
21
22
23
24
25
26
27
28
29
30
31
September 2021
M
T
W
T
F
S
S
1
2
3
4
5
6
7
8
9
10
11
12
13
14
15
16
17
18
19
20
21
22
23
24
25
26
27
28
29
30
October 2021
M
T
W
T
F
S
S
1
2
3
4
5
6
7
8
9
10
11
12
13
14
15
16
17
18
19
20
21
22
23
24
25
26
27
28
29
30
31
November 2021
M
T
W
T
F
S
S
1
2
3
4
5
6
7
8
9
10
11
12
13
14
15
16
17
18
19
20
21
22
23
24
25
26
27
28
29
30
December 2021
M
T
W
T
F
S
S
1
2
3
4
5
6
7
8
9
10
11
12
13
14
15
16
17
18
19
20
21
22
23
24
25
26
27
28
29
30
31
---
Guestbook Reviews
We had a 60th birthday weekend with the family, which was both wonderful and memorable. The owner, Fiona, was really helpful from beginning to end, giving us a choice of caterers and assisting us with the local supermarket home delivery. Fiona was there to greet us with a warm welcome and took time to show us around her beautiful property, so that we were easily acquainted with all it has to offer. We had a special meal prepared for us by Tamsin, who had been recommended by Fiona. The meal was superb and served in the majestic dining room. We even enjoyed the snow that added to the magical experience. The house is not only a beautiful property and in a lovely setting, it is also very well equipped and extremely homely. The whole of our party, (9 of us plus the dog) had a fantastic weekend. Nobody wanted to go home, including the grandchildren (6 & 9), who loved the trampoline almost as much as the hot tub. Our Black Labrador particularly enjoyed the surrounding area, including the stream that runs through the grounds. All in all we had a special weekend for a special birthday, which was always the aim. I cannot recommend this property highly enough. A massive thank you to Fiona for letting us stay at her home and for making us feel so welcome.
Clive G – March 2018
An amazing property and an owner who really cared about making our stay right can't recommend highly enough. I was using the property as a retreat and strategy planning workshop for my senior team and it worked perfectly, very well equipped and loved the location.
Stephen – February 2018
What a fantastic house. From the moment we booked Fiona was lovely and friendly and gave us as much information about the property as possible including easy to follow instructions of how to get there.
We were staying for a family get-together as my children/grandchildren live in different parts of the country. We all adored the property – great peaceful, private location with all the house amenities one could wish for, especially the very-well equipped kitchen and the comfortable homely lounge. On arrival, Julie showed us around and after she'd left I had a few questions and was able to phone to get immediate answers. Great service.
The hot tub was a great addition and was well used! All in all fantastic place for a gathering.
Maureen – February 2018
What a fab place! A group of 13 of us (all girls!) stayed here for my 50th last weekend. We had the most amazing time. The house is fantastic, with everything you would need to make you feel welcome and then some. There were slippers and bathrobes for all of us, plus hot tub towels and even flipflops – they have thought of everything. Perfect party house, or for families, within easy distance of great places to visit and things to do, We went to Westonbirt Arboretum for a walk, then had a mooch around Tetbury – window shopping at its finest. We got caterers in for Saturday night (recommended by Fiona) really delicious and such a treat not to have to think about the food! All in all – don't think we could have improved on it. Thank you!
Rozz – February 2018
Really lovely well equipped house in a great location. We are three families with 8 children ranging from 5 to 14 in years. The house is lovely, really beautifully furnished, great linen and very useful dressing gowns and slippers provided. The children loved using the hot tub at night which has disco lights … they also loved the trampoline and table tennis. Seamus the dog enjoyed his late night walks around the fields. The kitchen is very well equipped and we all enjoyed the complimentary champagne. Fiona was really lovely and helpful when we arrived showing us where everything was. A great place for a weekend away or longer…we will be back! Thanks Fiona!
01 December 2017
In one word, PERFECT!!!! From the moment I booked this property I received lots of useful information from Fiona (the owner), all of which was very welcome and then a confirmation call to check on the number of people staying so that the house could be arranged accordingly.
The champagne and flowers on arrival were a fabulous touch and then to be shown around this wonderful house by Fiona….the detail was fantastic, she really has thought of everything.
The house was perfect for our short stay, we played board games, danced and used the hot tub on the first night and then we had a chef come to the house and cook for us all on the Saturday night.
It's in a great location, very private and a nice walking distance to some lovely pubs. The house itself is stunning, it was super clean and fully equipped with everything you should need.
We would all definitely entertain staying here again…..fantastic.
17 November 2017
We rented this house for a surprise birthday weekend celebration and it was outstanding, exceeding our (very high) expectations!
Both Julie and Fiona were incredibly helpful in the planning of the weekend and every detail had been thought out: champagne, flowers and balloons on arrival and so many homely and quite quirky touches made it such an interesting visit. We found bookcases in unlikely places, amazing sculptures and paintings and surprising places to sit!
The kitchen was so huge that a four seater sofa was hardly noticeable! The Aga ran in the background the whole time and there was a 'normal' cooker too. There was crockery in abundance (none of that one glass per guest business here!), tons of napkins, kitchen roll, foil, bags etc and a beautiful welcome pack with bread, milk and other essentials. So few places are generous with such things. Here we felt like welcome and valued guests, not a couple of lines on someone's spreadsheet!
We had the master bedroom which was vast and had a freestanding bath as well as stairs to the hot tub! All the bedrooms were beautifully and individually furnished and had top quality bed linen.
The location is excellent (quiet, ample parking) and has a hot tub and various outdoor games such as croquet for guests plus some bikes. In fact there is too much to mention and I am sure I have missed a lot.
Fiona suggested a number of places to eat and we chose 'The Potting Shed' which was very good. We were able to have a room which was separate from the main pub and made it feel very special.
Fiona also suggested various caterers and we chose Tamsin from Cuisine Lapage and she came and cooked for us one evening. What a treat! Great food at a good price and recommended.
To summarise, Fiona and Julie take a personal interest in their guests and are prepared to 'go the extra mile'. And it shows. What a difference it makes! Thank you again.
Joy and Harold 4th October 2017
My Husband and I stayed at this enchanting house with our 3 children and their Husbands and wife along with their grandchildren. 14 of us in all. We were greeted by Julie who is so helpful and kind, without being "pushy". It is very tastefully decorated without feeling "untouchable"
We all agreed the beds are extremely comfortable. We had a little wedding vow renewal. Just us as a family. We were in the big hall and it was unforgettable.
The dining room is fabulous. We sat there for all our meals and I felt so proud sat round the table with all my family. It's so well equipped. Fiona and Julie have thought of everything!
The hot tub was amazing. There were plenty of games and books there too.
It is just the most amazing place. We're back home now and still re-living everything about our fabulous weekend!
Jennie and Alan September 2017
We organised a stag weekend at this magnificent place for two nights in June and everyone loved the house and the surroundings, all the equipment was top notch and the facilities perfect for everyone, Fiona was so warm and welcoming and helped us in every way possible. We will be back for another long weekend that's for sure. 10/10
Justin June 2017
As a house party of 10 we were overwhelmed at how beautiful this house and its surroundings are. It totally exceeded our expectations, very homely with very comfy beds and good stereo systems because we love our music! Lots of space both inside and outside to relax and have fun. An awesome few days away we will most definitely return.
A Coverdale 12th-14th May 2017
A large group of us came for a 50th birthday celebration and the accommodation was stylish and luxurious, the beds were really comfy and the bed linen and towels were really luxurious. There are plenty of bathrooms, several are en-suite and they are all modern. There's a great, well equipped kitchen and we had a lovely full English breakfast out on the sunny terrace. The views from the house and beautiful gardens are stunning and we had a game of croquet on the lawn. The owner had organised a hot tub to be delivered for us, and we loved using that. We had a chef on one night and had a great celebration dinner in the lovely dining room. There's enough space here for large groups to get together in the house, but lots of space to have some privacy if you want to find a place to chill out peacefully. None of us wanted to leave! We loved it so much we are hoping to come back in the autumn for another birthday weekend.
Laura M. April 2017
Places Nearby
Malmesbury – 3 miles
Tetbury – 3 miles
Cirencester – 10 miles
Kemble Station – 6 miles
M4 (Junction 17) – 8 miles