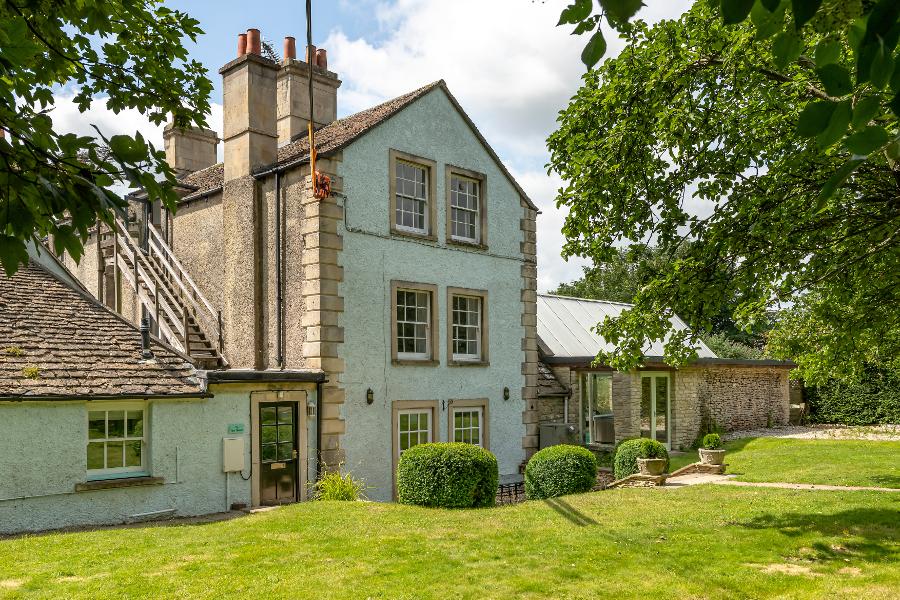 Location: Iron Acton. 7 bedrooms with a mixture of en-suites, separate toilets and family bathrooms. Sofa bed available for up to a further 2 people. Featuring an indoor swimming pool plus hot tub this historic country house is surrounded by gorgeous rural landscapes and Areas of Outstanding Natural Beauty. A great property for hen parties, group meet-ups or family-friendly holidays in the Cotswolds.
Spend your days exploring the Badminton Estate, or venture further afield to popular destinations like Stow on the Wold, Bourton on the Water and Moreton in Marsh. Bath and Bristol are also just 25 minutes away for those large groups who are looking for something a little more lively. For food and drink, the Cotswolds is renowned for its award-winning pubs and fine dining restaurants. There's even one just opposite the house that serves up a great selection of food and drink, whatever time of day! And there are plenty of Cotswold countryside walks immediately on your doorstep
Gallery
---
---
Accommodation…
While the decor has been updated, the house still reflects its illustrious past. Having been built in 1800, many of its original features are still intact but have been accessorised with modern luxuries. Think traditional open fires, exposed beams, and bold artwork, as well as plenty of space for celebrations – whatever that looks like, for you.
The house has seven comfortable bedrooms sleeping a total of 23 people and there is a sofa bed in the living room available for two extra people. There is a mixture of en-suites, separate toilets and family bathrooms. There is a conservatory dining room and a spacious lounge. Fully equipped kitchen with cutlery, utensils, crockery and glassware. A log fire in the bar area and an indoor swimming pool and hot tub.
Ground Floor:
Burford: Single x 2
Lacock: Single x 2
Stow: king x 1

1st Floor
Bourton: Single x 2
Stanton: King x 1 / Single x 1 / Large Bunk x 2 (sleeps 4 or 6, bottom bunk = small double)

2nd Floor:
Sodbury: King x 1 / Bunk x 1 / Single x 1
Blockley: King x 1 / Single x 1

---
Outside…
Large outdoor social space with seating
South-facing landscaped gardens
Parking for 10 Cars
---
All Rooms Are Supplied With…
Linen and bath towels

Facilities Include…
Two 50" HD Smart TV
Wi-Fi (450mb connection)
High quality bluetooth speaker
Bar/lobby social area
Ironing board and iron
Highchairs and travel cot
Dog friendly by prior arrangement and at no extra charge
Disabled Access
The property is accessible, however please enquire in advance to discuss your requirements
---
Pricing for PMHouse048
Up to 20 guests two night weekend stay – £4,600
Additional guests – £200 per person
Please note:
£1,000 refundable damage deposit is required.
There is a minimum two night stay at weekends – one night can be booked but will be charged for two nights.
Please call Cazz on 07966 443 536 or use the contact form to confirm availability and pricing.
---
Contact Us
---
Availability for PMHouse048
January 2022
M
T
W
T
F
S
S
1
2
3
4
5
6
7
8
9
10
11
12
13
14
15
16
17
18
19
20
21
22
23
24
25
26
27
28
29
30
31
February 2022
M
T
W
T
F
S
S
1
2
3
4
5
6
7
8
9
10
11
12
13
14
15
16
17
18
19
20
21
22
23
24
25
26
27
28
March 2022
M
T
W
T
F
S
S
1
2
3
4
5
6
7
8
9
10
11
12
13
14
15
16
17
18
19
20
21
22
23
24
25
26
27
28
29
30
31
April 2022
M
T
W
T
F
S
S
1
2
3
4
5
6
7
8
9
10
11
12
13
14
15
16
17
18
19
20
21
22
23
24
25
26
27
28
29
30
May 2022
M
T
W
T
F
S
S
1
2
3
4
5
6
7
8
9
10
11
12
13
14
15
16
17
18
19
20
21
22
23
24
25
26
27
28
29
30
31
June 2022
M
T
W
T
F
S
S
1
2
3
4
5
6
7
8
9
10
11
12
13
14
15
16
17
18
19
20
21
22
23
24
25
26
27
28
29
30
July 2022
M
T
W
T
F
S
S
1
2
3
4
5
6
7
8
9
10
11
12
13
14
15
16
17
18
19
20
21
22
23
24
25
26
27
28
29
30
31
August 2022
M
T
W
T
F
S
S
1
2
3
4
5
6
7
8
9
10
11
12
13
14
15
16
17
18
19
20
21
22
23
24
25
26
27
28
29
30
31
September 2022
M
T
W
T
F
S
S
1
2
3
4
5
6
7
8
9
10
11
12
13
14
15
16
17
18
19
20
21
22
23
24
25
26
27
28
29
30
October 2022
M
T
W
T
F
S
S
1
2
3
4
5
6
7
8
9
10
11
12
13
14
15
16
17
18
19
20
21
22
23
24
25
26
27
28
29
30
31
November 2022
M
T
W
T
F
S
S
1
2
3
4
5
6
7
8
9
10
11
12
13
14
15
16
17
18
19
20
21
22
23
24
25
26
27
28
29
30
December 2022
M
T
W
T
F
S
S
1
2
3
4
5
6
7
8
9
10
11
12
13
14
15
16
17
18
19
20
21
22
23
24
25
26
27
28
29
30
31
January 2023
M
T
W
T
F
S
S
1
2
3
4
5
6
7
8
9
10
11
12
13
14
15
16
17
18
19
20
21
22
23
24
25
26
27
28
29
30
31
February 2023
M
T
W
T
F
S
S
1
2
3
4
5
6
7
8
9
10
11
12
13
14
15
16
17
18
19
20
21
22
23
24
25
26
27
28
March 2023
M
T
W
T
F
S
S
1
2
3
4
5
6
7
8
9
10
11
12
13
14
15
16
17
18
19
20
21
22
23
24
25
26
27
28
29
30
31
April 2023
M
T
W
T
F
S
S
1
2
3
4
5
6
7
8
9
10
11
12
13
14
15
16
17
18
19
20
21
22
23
24
25
26
27
28
29
30
May 2023
M
T
W
T
F
S
S
1
2
3
4
5
6
7
8
9
10
11
12
13
14
15
16
17
18
19
20
21
22
23
24
25
26
27
28
29
30
31
June 2023
M
T
W
T
F
S
S
1
2
3
4
5
6
7
8
9
10
11
12
13
14
15
16
17
18
19
20
21
22
23
24
25
26
27
28
29
30
July 2023
M
T
W
T
F
S
S
1
2
3
4
5
6
7
8
9
10
11
12
13
14
15
16
17
18
19
20
21
22
23
24
25
26
27
28
29
30
31
August 2023
M
T
W
T
F
S
S
1
2
3
4
5
6
7
8
9
10
11
12
13
14
15
16
17
18
19
20
21
22
23
24
25
26
27
28
29
30
31
September 2023
M
T
W
T
F
S
S
1
2
3
4
5
6
7
8
9
10
11
12
13
14
15
16
17
18
19
20
21
22
23
24
25
26
27
28
29
30
October 2023
M
T
W
T
F
S
S
1
2
3
4
5
6
7
8
9
10
11
12
13
14
15
16
17
18
19
20
21
22
23
24
25
26
27
28
29
30
31
November 2023
M
T
W
T
F
S
S
1
2
3
4
5
6
7
8
9
10
11
12
13
14
15
16
17
18
19
20
21
22
23
24
25
26
27
28
29
30
December 2023
M
T
W
T
F
S
S
1
2
3
4
5
6
7
8
9
10
11
12
13
14
15
16
17
18
19
20
21
22
23
24
25
26
27
28
29
30
31
---
Location