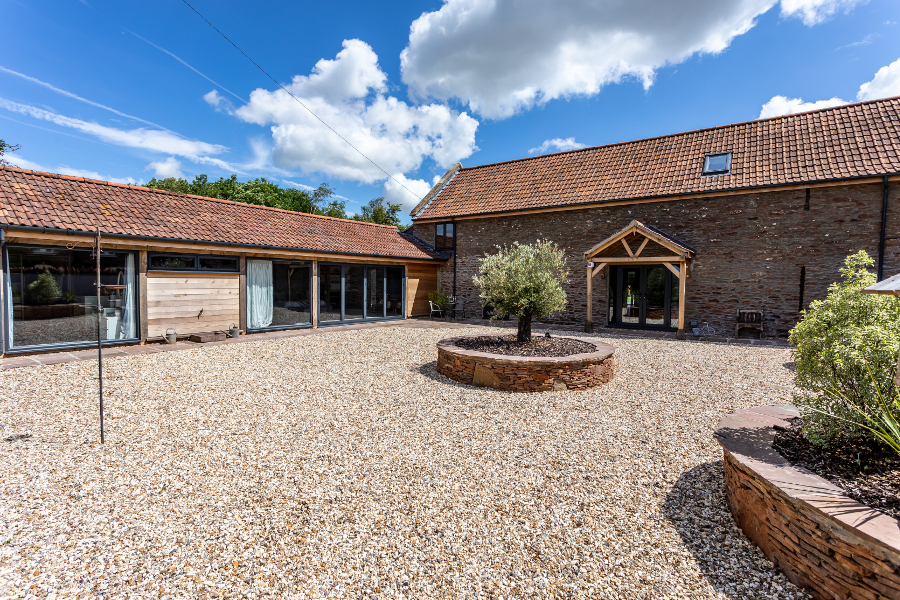 About this property
Location: Iron Acton. 6 bedrooms, 5 bath/shower rooms, 2 cloakrooms, sleeps 20 to 22 guests. This beautifully restored barn conversion is set in its own grounds on the outskirts of the ancient village of Iron Acton. It is a fabulous country property with sumptuous decor, large cinema and games room and a six-seater hot tub outside. It is the perfect party house to rent for hen and stag parties, birthday parties, family celebrations and get-togethers with friends.
The property is tastefully furnished throughout and is set in 1.5 acres of grounds with its own field adjacent to the countryside. It is approached via a private driveway, with electric gates and there is ample off-road parking. Time your visit right and you could enjoy May Day celebrations on Iron Acton Green or even a night at the proms in Iron Acton Meadows. The historic Acton Court, built to impress Henry VIII, is close-by and open to visitors for tours and special events while the nearby market town of Chipping Sodbury offers cafes, boutiques and a selection of pubs which serve food. If city night life is on the itinerary, both Bristol and Bath are within a half hour car journey.
Gallery
---
---
Accommodation…
The house has six bedrooms and there is the option to book a seperate cottage with the main house to sleep three further guests with one double bed and two singles. The cottage has a separate kitchen, lounge and large bathroom with wet room.
The bedroom plan for the main house is as follows:
Ground Floor
1. Two double beds with ensuite shower room
2. Three single beds or a superking bed with one single bed
3. Mastersuite: Superking bed with two single beds. TV film projector. Drinks Fridge. Roll top bath in bedroom, ensuite wet room
4. Dressing room
Two single beds or superking bed
TV
First Floor
5. One Superking bed with three single beds, Ensuite shower room
6. One Double bed and two singles. Den for children aged eight and above sleeps one child in bedroom 6. Ensuite family bathroom with shower
Cinema Room has two double seating/mattress areas for a further four guests if required
---
Outside…
Electronic gated drive with ample off-road parking
Outside entertainment area with bar, TV, drinks fridge
Hot tub – seats 6
All Rooms are supplied with…
Linen and bath towels
Facilities Include…
Downstairs cloakroom
Dining room seats 20
Gym
Games room with pool table
Two lounges
State of the art kitchen with:
Full size Fridge
Full size freezer
Hot tap
Dishwasher
Two ovens
Hob
Ulitity room with:
Washing machine
Tumble dryer
Fridge freezer
Ironing board
Iron
TV in Lounge
TV in four bedrooms
Services On Request…
On your arrival we can supply a celebration balloon arrangement with a bottle of bubbly and chocolates to welcome you
---
Pricing for PMHouse047
January to April and October, November 2021-2022 – to include hot tub (excludes Bank holidays, Easter, Half term and Christmas)
Price to sleep 20 guests
Weekend
2 nights £4,500
3 nights £5,250
Midweek
2 nights £3,500
3 nights £4,250
4 nights £5,000
Week stay
£8,250
April to September peak season 2022 – to include hot tub (excludes Bank Holidays and Half Term)
Weekend
Friday to Sunday
2 nights £5,000
3 nights £5,850
4 nights £6,700
Midweek
2nights £4,000
3 nights £4,950
4 nights £5,850
Week stay
£9,000
Price for the additional cottage is £600 for two nights
Bank holidays, Easter, Half term and Christmas – Price on application
Please note:
Additional guests (over 20) £80 per person per night
£1,000 refundable damage deposit is required
There is a minimum two night stay at weekends – one night can be booked but will be charged for two nights
Check-in at 3pm and check-out at 10am
Please call Cazz on 07966 443 536 or use the contact form to confirm availability and pricing
---
Availability for PMHouse047
January 2022
M
T
W
T
F
S
S
1
2
3
4
5
6
7
8
9
10
11
12
13
14
15
16
17
18
19
20
21
22
23
24
25
26
27
28
29
30
31
February 2022
M
T
W
T
F
S
S
1
2
3
4
5
6
7
8
9
10
11
12
13
14
15
16
17
18
19
20
21
22
23
24
25
26
27
28
March 2022
M
T
W
T
F
S
S
1
2
3
4
5
6
7
8
9
10
11
12
13
14
15
16
17
18
19
20
21
22
23
24
25
26
27
28
29
30
31
April 2022
M
T
W
T
F
S
S
1
2
3
4
5
6
7
8
9
10
11
12
13
14
15
16
17
18
19
20
21
22
23
24
25
26
27
28
29
30
May 2022
M
T
W
T
F
S
S
1
2
3
4
5
6
7
8
9
10
11
12
13
14
15
16
17
18
19
20
21
22
23
24
25
26
27
28
29
30
31
June 2022
M
T
W
T
F
S
S
1
2
3
4
5
6
7
8
9
10
11
12
13
14
15
16
17
18
19
20
21
22
23
24
25
26
27
28
29
30
July 2022
M
T
W
T
F
S
S
1
2
3
4
5
6
7
8
9
10
11
12
13
14
15
16
17
18
19
20
21
22
23
24
25
26
27
28
29
30
31
August 2022
M
T
W
T
F
S
S
1
2
3
4
5
6
7
8
9
10
11
12
13
14
15
16
17
18
19
20
21
22
23
24
25
26
27
28
29
30
31
September 2022
M
T
W
T
F
S
S
1
2
3
4
5
6
7
8
9
10
11
12
13
14
15
16
17
18
19
20
21
22
23
24
25
26
27
28
29
30
October 2022
M
T
W
T
F
S
S
1
2
3
4
5
6
7
8
9
10
11
12
13
14
15
16
17
18
19
20
21
22
23
24
25
26
27
28
29
30
31
November 2022
M
T
W
T
F
S
S
1
2
3
4
5
6
7
8
9
10
11
12
13
14
15
16
17
18
19
20
21
22
23
24
25
26
27
28
29
30
December 2022
M
T
W
T
F
S
S
1
2
3
4
5
6
7
8
9
10
11
12
13
14
15
16
17
18
19
20
21
22
23
24
25
26
27
28
29
30
31
January 2023
M
T
W
T
F
S
S
1
2
3
4
5
6
7
8
9
10
11
12
13
14
15
16
17
18
19
20
21
22
23
24
25
26
27
28
29
30
31
February 2023
M
T
W
T
F
S
S
1
2
3
4
5
6
7
8
9
10
11
12
13
14
15
16
17
18
19
20
21
22
23
24
25
26
27
28
March 2023
M
T
W
T
F
S
S
1
2
3
4
5
6
7
8
9
10
11
12
13
14
15
16
17
18
19
20
21
22
23
24
25
26
27
28
29
30
31
April 2023
M
T
W
T
F
S
S
1
2
3
4
5
6
7
8
9
10
11
12
13
14
15
16
17
18
19
20
21
22
23
24
25
26
27
28
29
30
May 2023
M
T
W
T
F
S
S
1
2
3
4
5
6
7
8
9
10
11
12
13
14
15
16
17
18
19
20
21
22
23
24
25
26
27
28
29
30
31
June 2023
M
T
W
T
F
S
S
1
2
3
4
5
6
7
8
9
10
11
12
13
14
15
16
17
18
19
20
21
22
23
24
25
26
27
28
29
30
July 2023
M
T
W
T
F
S
S
1
2
3
4
5
6
7
8
9
10
11
12
13
14
15
16
17
18
19
20
21
22
23
24
25
26
27
28
29
30
31
August 2023
M
T
W
T
F
S
S
1
2
3
4
5
6
7
8
9
10
11
12
13
14
15
16
17
18
19
20
21
22
23
24
25
26
27
28
29
30
31
September 2023
M
T
W
T
F
S
S
1
2
3
4
5
6
7
8
9
10
11
12
13
14
15
16
17
18
19
20
21
22
23
24
25
26
27
28
29
30
October 2023
M
T
W
T
F
S
S
1
2
3
4
5
6
7
8
9
10
11
12
13
14
15
16
17
18
19
20
21
22
23
24
25
26
27
28
29
30
31
November 2023
M
T
W
T
F
S
S
1
2
3
4
5
6
7
8
9
10
11
12
13
14
15
16
17
18
19
20
21
22
23
24
25
26
27
28
29
30
December 2023
M
T
W
T
F
S
S
1
2
3
4
5
6
7
8
9
10
11
12
13
14
15
16
17
18
19
20
21
22
23
24
25
26
27
28
29
30
31
---
Guestbook Reviews
There are currently no reviews for this property
---
Location