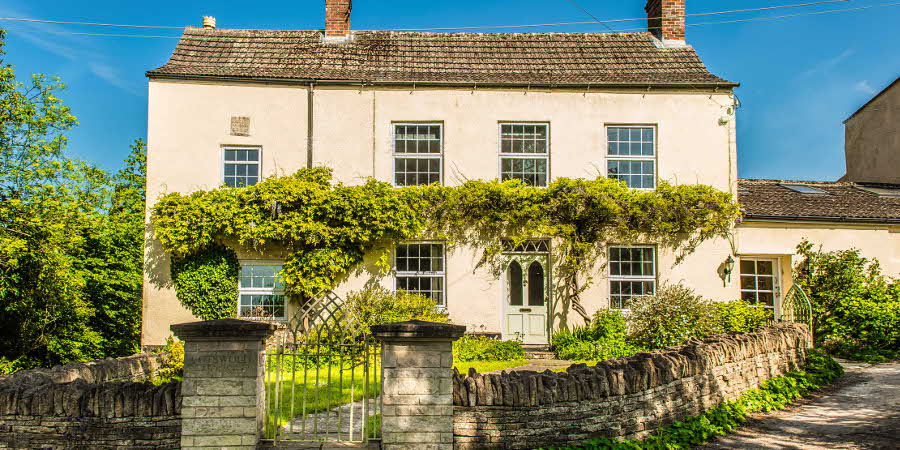 About this property
Location: North Nibley, Gloucestershire. 6 bedrooms, 3 bathrooms, 1 separate wc, sleeps 12-16 guests. A very large, super stylish, luxury property with a beautiful private garden. It is unique in that it has a huge amount of downstairs living space as well as 6 bedrooms which can accommodate up to 16 people making it ideal for large gatherings. It is easily accessible from London, Bristol, Birmingham and Manchester.
The property benefits from wood burners in both the sitting room and drawing room while the well equipped kitchen features a warm cosy Aga as well as an induction hob and double electric oven. The house has a luxury boutique hotel feel with beautiful vintage furniture, a Farrow & Ball paint palette together with modern facilities.
The small village of North Nibley, in the heart of the South-West Cotswolds countryside features a well stocked shop and a great pub, it is close to the market towns of Wotton Under Edge, Nailsworth, Tetbury and Stroud as well as Dursley. It is also in easy reach of Cheltenham (particularly for Gold Cup week), Bath and Cirencester as well as Badminton (for the annual horse trials).
Gallery
---
---
Accommodation…
The property can sleep 12 guests (plus 4/5 children) in 6 bedrooms of which two are en-suite. The bedroom configuration consists of five flexible twin or double rooms and one fixed double room. There are also four comfortable fold-up single beds which can be made up – details upon request. Just let us know your requirements beforehand and we will ensure your bedroom arrangements are configured before you arrive.
GROUND FLOOR
Entrance Hall
Kitchen: fully equipped, hand painted kitchen with granite surfaces and an Aga, plus separate electric oven/induction, hob and microwave, dishwasher and large country kitchen table and seating
Cloakroom with w/c
Sitting room – wood burner, two, large comfortable sofas, armchairs, TV and DVD player
Drawing room – wood burner, dining table seating 14 and comfortable sofas and arm chairs TV and DVD player/CD player
Bedroom 1– super king bed, zip and link bed which can either be made as large double or twin
Bedroom 2 – super king bed, zip and link bed which can either be made as large double or twin
FIRST FLOOR
Master Bedroom – super king bed which can either be made up as a double or twin plus en-suite shower room
Bedroom 3 – super king bed zip and link bed which can either be made up as a large double or twin plus an en-suite shower room
Bedroom 4 – super king bed zip and link bed which can either be made up as a large double or twin
Bedroom 5 – king size double bed – PLEASE NOTE this room has a low beam
Family bathroom with bath and overhead shower
---
What's included…
General provisions: initial supply of bin bags, dishwasher tablets, washing up liquid, toilet rolls/coffee/tea/sugar/salt/pepper/spice rack/tin foil HOWEVER these are not expected to last you the duration of your stay
Linen and bath towels
Hand wash and shower gel
Utilities
Facilities Include…
Entertainment: DVD player, CD player, radio, TV, books, board games
Two wood burners, one initial basket of logs provided
Wifi internet connection
1 travel cot (NB bedlinen not provided) & 1 high chair
Comprehensive utensils/cooking aids
Other: iron/ironing board, basic first aid kit, fire extinguisher, fire blanket
Outside…
The house is set in a beautiful, well stocked private garden with a paved terrace complete with built in coal BBQ with table and seating for outdoor eating
There is also a children's playhouse and swing and various outdoor garden games such as croquet and badminton
There is parking for up to 6 cars within the grounds.
Restrictions…
Well behaved, mature dogs (no puppies please) are allowed at the owner's discretion – charged at £25 per dog
Weddings at the property are not available
No smoking
Sorry, no stag parties
Late night noise restriction policy in place
The primary renter must be aged 20 years or over
Services On Request…
Additional housekeeping
Photography of your event – the owner of the house is a photographer and offers preferential rates for groups at the house so if you are celebrating a special occasion and would like some wonderful pictures do let us know
Catering
Spa treatments at the house
Accessibility, Health and Safety…
This is an old property that has lots of character features including low beams in one room as well varying floor levels, those with limited mobility or carrying babies should be aware that exiting the property in the event of an emergency could be more difficult. There are hard wired smoke and heat detectors in the house which operate on a sound only basis so those who have a more severe hearing impairment may not be able to hear them and could be at risk.
The gardens are not child or dog proof and there is an open gateway which leads on to the road so young children and animals should not be left alone and should be supervised at all times.
Catering…
The Dineindulge Private Chef Service – "The Private Dining Experience for Everyone"
Dineindulge offers a unique private dining experience brought direct to you. Combining a personal chef hire service with restaurant quality cuisine at an affordable price.
Pricing for PMHouse035
2021/22
To sleep up to 16 guests
2 night weekend – £2,500
Friday-Friday – from £2,800 (Low Season) – £3,900 (High Season)
Christmas/New Year
Price on application, please call Cazz on 07966 443 536 for more details.
Please note:
£500 refundable damage deposit is required.
There is a minimum two night stay at weekends – one night can be booked but will be charged for two nights.

Please call Cazz on 07966 443 536 or use the contact form to confirm availability and pricing.
Contact Us
---
Availability for PMHouse035
January 2022
M
T
W
T
F
S
S
1
2
3
4
5
6
7
8
9
10
11
12
13
14
15
16
17
18
19
20
21
22
23
24
25
26
27
28
29
30
31
February 2022
M
T
W
T
F
S
S
1
2
3
4
5
6
7
8
9
10
11
12
13
14
15
16
17
18
19
20
21
22
23
24
25
26
27
28
March 2022
M
T
W
T
F
S
S
1
2
3
4
5
6
7
8
9
10
11
12
13
14
15
16
17
18
19
20
21
22
23
24
25
26
27
28
29
30
31
April 2022
M
T
W
T
F
S
S
1
2
3
4
5
6
7
8
9
10
11
12
13
14
15
16
17
18
19
20
21
22
23
24
25
26
27
28
29
30
May 2022
M
T
W
T
F
S
S
1
2
3
4
5
6
7
8
9
10
11
12
13
14
15
16
17
18
19
20
21
22
23
24
25
26
27
28
29
30
31
June 2022
M
T
W
T
F
S
S
1
2
3
4
5
6
7
8
9
10
11
12
13
14
15
16
17
18
19
20
21
22
23
24
25
26
27
28
29
30
July 2022
M
T
W
T
F
S
S
1
2
3
4
5
6
7
8
9
10
11
12
13
14
15
16
17
18
19
20
21
22
23
24
25
26
27
28
29
30
31
August 2022
M
T
W
T
F
S
S
1
2
3
4
5
6
7
8
9
10
11
12
13
14
15
16
17
18
19
20
21
22
23
24
25
26
27
28
29
30
31
September 2022
M
T
W
T
F
S
S
1
2
3
4
5
6
7
8
9
10
11
12
13
14
15
16
17
18
19
20
21
22
23
24
25
26
27
28
29
30
October 2022
M
T
W
T
F
S
S
1
2
3
4
5
6
7
8
9
10
11
12
13
14
15
16
17
18
19
20
21
22
23
24
25
26
27
28
29
30
31
November 2022
M
T
W
T
F
S
S
1
2
3
4
5
6
7
8
9
10
11
12
13
14
15
16
17
18
19
20
21
22
23
24
25
26
27
28
29
30
December 2022
M
T
W
T
F
S
S
1
2
3
4
5
6
7
8
9
10
11
12
13
14
15
16
17
18
19
20
21
22
23
24
25
26
27
28
29
30
31
January 2022
M
T
W
T
F
S
S
1
2
3
4
5
6
7
8
9
10
11
12
13
14
15
16
17
18
19
20
21
22
23
24
25
26
27
28
29
30
31
February 2022
M
T
W
T
F
S
S
1
2
3
4
5
6
7
8
9
10
11
12
13
14
15
16
17
18
19
20
21
22
23
24
25
26
27
28
March 2022
M
T
W
T
F
S
S
1
2
3
4
5
6
7
8
9
10
11
12
13
14
15
16
17
18
19
20
21
22
23
24
25
26
27
28
29
30
31
April 2022
M
T
W
T
F
S
S
1
2
3
4
5
6
7
8
9
10
11
12
13
14
15
16
17
18
19
20
21
22
23
24
25
26
27
28
29
30
May 2022
M
T
W
T
F
S
S
1
2
3
4
5
6
7
8
9
10
11
12
13
14
15
16
17
18
19
20
21
22
23
24
25
26
27
28
29
30
31
June 2022
M
T
W
T
F
S
S
1
2
3
4
5
6
7
8
9
10
11
12
13
14
15
16
17
18
19
20
21
22
23
24
25
26
27
28
29
30
July 2022
M
T
W
T
F
S
S
1
2
3
4
5
6
7
8
9
10
11
12
13
14
15
16
17
18
19
20
21
22
23
24
25
26
27
28
29
30
31
August 2022
M
T
W
T
F
S
S
1
2
3
4
5
6
7
8
9
10
11
12
13
14
15
16
17
18
19
20
21
22
23
24
25
26
27
28
29
30
31
September 2022
M
T
W
T
F
S
S
1
2
3
4
5
6
7
8
9
10
11
12
13
14
15
16
17
18
19
20
21
22
23
24
25
26
27
28
29
30
October 2022
M
T
W
T
F
S
S
1
2
3
4
5
6
7
8
9
10
11
12
13
14
15
16
17
18
19
20
21
22
23
24
25
26
27
28
29
30
31
November 2022
M
T
W
T
F
S
S
1
2
3
4
5
6
7
8
9
10
11
12
13
14
15
16
17
18
19
20
21
22
23
24
25
26
27
28
29
30
December 2022
M
T
W
T
F
S
S
1
2
3
4
5
6
7
8
9
10
11
12
13
14
15
16
17
18
19
20
21
22
23
24
25
26
27
28
29
30
31
---
Guestbook Reviews
The property is so lovely, an amazing entertaining room, and the owner was incredibly helpful and efficient from start to finish. Thank you for a fab weekend!
Emma May 2018
We stayed at the house for a weekend in April, and it was so lovely, made only better by the easy communication we had with the owner, who even offered to help decorate the house for the celebration that we were having. I would highly recommend this house to others.
Emily G Apr 2018
The house is absolutely gorgeous, one of the nicest places I've stayed in. It's large and can easily absorb a group of 14, but still homely at the same time. The main dining/sitting room is what seems like a converted stables and is very impressive. It was perfect for our hen weekend with 14 girls. Lots of cooking and dining space and all the bedrooms good sizes. The owner was really helpful right from booking to refunding the deposit, and gave us a call to check we'd arrived safely. Would definitely recommend staying here!
Sarah B Jan 2018
Wonderful house for large families – plenty of spaces to gather all together. Very homely and comfortable, tastefully decorated and plenty of spaces to explore so you're not treading on each other's toes. Lovely walk up to the nearby tower too.
Ruairi C. July 2017
Fabulous Accommodation – Highly recommended! We were a family group of six adults and six children. Not only was there plenty of room for everyone but there was also something to do for everyone, whether it was sitting in the sunshine in the garden or playing hide and seek around the house. The owners were very welcoming and have put a lot of thought into outfitting and decorating the house – there was nothing at all that was missing, the beds were extremely comfortable, the kitchen well-equipped and the living and dining areas relaxing. We would definitely stay here again – and again and again!
Tracy W. Jul 2017
This house was the perfect venue for our family celebration. We had the warmest welcome from our hosts who have created a beautiful country retreat. The house was very well equipped for all our needs from toddlers to grownups. With so much local knowledge, our host provided information on local pubs, beautiful walks and outside catering for a special meal. We all enjoyed the flourishing mature garden and the children had lots to keep them entertained both outside and in. I would highly recommend this property and I hope we have the opportunity to re-visit in the future.
Charlotte N. Jun 2017
---
Location