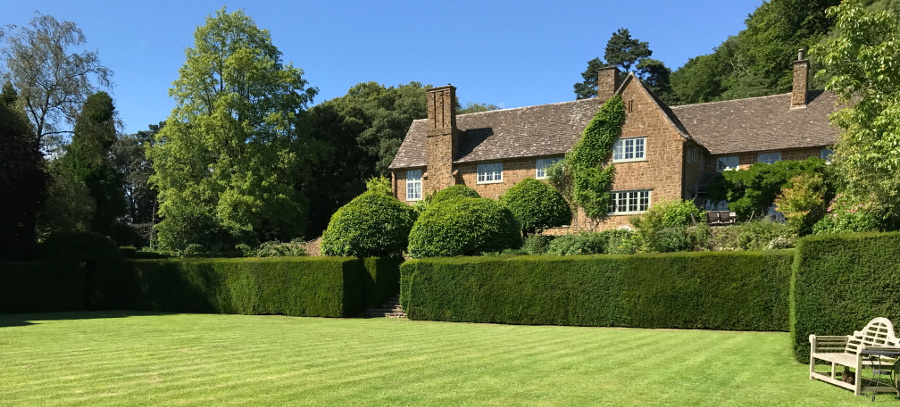 About this property
Location: Nr Dursley and Wotton-Under-Edge. 7 bedrooms, 4 bathrooms, sleeps 17-25 guests. A fabulous Cotswold country estate house to entertain all with games room, hot tub and outdoor tennis court. Perfect for hen parties, birthday parties, weddings, family celebrations and friend's get-togethers.
Nestling just below Stinchcombe Hill in Gloucestershire this house, which is constructed in the "Arts and Crafts" style, enjoys an elevated but sheltered position. It stands in its own grounds of about nine acres, with sculpted hedges and intricate patterned lawns and terracing, and enjoys extensive and impressive views to the south over the Severn Vale and to the west the distant Black Mountains. The property is homely yet elegant, with three reception rooms that are as luxurious and comfortable as any of the finest hotels, and the 17 seater dining room offers a grand space for celebration dinners.
Gallery
---
---
Accommodation…
The main reception room has a homely wood burner and children's chairs sit side-by-side with generously sized comfy sofas. There are bookcases stacked with books and there is a playroom with small snooker table, board games and a baby grand piano. There's also a pretty garden room to sit and relax in.
The kitchen is fully equipped for self catering including a Rangemaster induction double oven.
There's no shortage of sleeping space, with beds for 17 plus a couple of z-beds for family flexibility. Pick from seven bedrooms, each bursting with classic English charm. You'll enjoy deep, supportive mattresses and crisp linen bedding.
The master bedroom is a super king-size, bedroom two is a king-size. Bedroom three comes with French-style twin beds and bedroom four is a double. Bedrooms five and six are king-sizes, bedroom seven sleeps five in three singles and a double.
You'll share four bathrooms. The first offers a long soak in the tub bath, the second comes with a bath and shower head and bathrooms three and four are stylish modern shower rooms. Plus there is a downstairs w.c.
Hire This House For Your Wedding…
This property is licensed for weddings, so you can hire this amazing house and grounds for a wedding for 100/120 guests with prices starting from £9,950 inclusive of a marquee with dance floor, tables and chairs plus the use of the house for a two night stay for up to 20 guests. Flowers, food and drink to be arranged at an additional cost. For wedding catering we recommend Berry Blue Catering or Napier Catering
---
What's included…
Linen, towels and essentials
Basket of firewood
Two travel cots (linen not provided)
Two high chairs
Facilities Include…
Hire a private chef for a special meal with no effort, see below for our recommendations
Dining tables seat 12 guests in the kitchen and 17 guests in the dining room
Range master induction double oven (electric)
Microwave
Two dishwashers
Nespresso coffee machine
Baby grand piano
Small pool table, and table tennis
Drawing room / games room
3 TVs downstairs, 2 upstairs
Sky Q, full Sky package, BT Sports
DVD player
Bose docking station with speakers
Wi-Fi
Fires: one gas, closed, wood-burner-style; one wood burner; one basket provided (extra available at additional cost)
Outside…
BBQ
Outside tables and chairs
Hot tub for six
All-weather tennis court
9.7 acres of grounds
Croquet & cricket sets
Footballs
Parking for 10 cars
Restrictions…
No fireworks
Noise policy in place
Stag & hen parties welcome
Two dogs welcome at an additional cost of £25 per dog per stay (not to be let upstairs or on furniture)
No Smoking
Services On Request…
Why not order your groceries on-line and have them delivered to the house prior to your arrival. We will take delivery of your shopping and unpack it all for you at no extra charge.
On your arrival we can supply a celebration balloon arrangement with a bottle of bubbly and chocolates to welcome you.
The Dineindulge Private Chef Service – "The Private Dining Experience for Everyone"
Dineindulge offers a unique private dining experience brought direct to you. Combining a personal chef hire service with restaurant quality cuisine at an affordable price.

Napier Catering – We have catered for parties from 6 people to over 500 sitting down. Every event is personal and we're always brimming with ideas for creative themes to deliver a truly unique experience that people really remember.
Berry Blue Catering – Whether you are arranging an intimate private celebration or a large event, we will deliver the perfect menu to suit your budget.
Pricing for PMHouse025
To sleep up to 25 guests – 2019
Low Season (January, February, March, October, November, December excluding holidays)
2 night weekend – £3,100
3 night weekend – £3,100
Midweek – £900 per night, two minimum stay
Mid Season (April, May, September excluding holidays)
2 night weekend – £3,450
3 night weekend – £3,800
Midweek – £900 per night, two minimum stay
High Season (June, July, August including holidays)
2 night weekend – £3,650
3 night weekend – £4,000
Midweek – £1,000 per night, two minimum stay
Christmas/New Year
Price on application, please call Cazz on 07966 443 536 for more details.
Please note:
£1,000 refundable damage deposit is required.
There is a minimum two night stay at weekends – one night can be booked but will be charged for two nights.

Please call Cazz on 07966 443 536 or use the contact form to confirm availability and pricing.
Contact Us
---
Availability for PMHouse025
January 2022
M
T
W
T
F
S
S
1
2
3
4
5
6
7
8
9
10
11
12
13
14
15
16
17
18
19
20
21
22
23
24
25
26
27
28
29
30
31
February 2022
M
T
W
T
F
S
S
1
2
3
4
5
6
7
8
9
10
11
12
13
14
15
16
17
18
19
20
21
22
23
24
25
26
27
28
March 2022
M
T
W
T
F
S
S
1
2
3
4
5
6
7
8
9
10
11
12
13
14
15
16
17
18
19
20
21
22
23
24
25
26
27
28
29
30
31
April 2022
M
T
W
T
F
S
S
1
2
3
4
5
6
7
8
9
10
11
12
13
14
15
16
17
18
19
20
21
22
23
24
25
26
27
28
29
30
May 2022
M
T
W
T
F
S
S
1
2
3
4
5
6
7
8
9
10
11
12
13
14
15
16
17
18
19
20
21
22
23
24
25
26
27
28
29
30
31
June 2022
M
T
W
T
F
S
S
1
2
3
4
5
6
7
8
9
10
11
12
13
14
15
16
17
18
19
20
21
22
23
24
25
26
27
28
29
30
July 2022
M
T
W
T
F
S
S
1
2
3
4
5
6
7
8
9
10
11
12
13
14
15
16
17
18
19
20
21
22
23
24
25
26
27
28
29
30
31
August 2022
M
T
W
T
F
S
S
1
2
3
4
5
6
7
8
9
10
11
12
13
14
15
16
17
18
19
20
21
22
23
24
25
26
27
28
29
30
31
September 2022
M
T
W
T
F
S
S
1
2
3
4
5
6
7
8
9
10
11
12
13
14
15
16
17
18
19
20
21
22
23
24
25
26
27
28
29
30
October 2022
M
T
W
T
F
S
S
1
2
3
4
5
6
7
8
9
10
11
12
13
14
15
16
17
18
19
20
21
22
23
24
25
26
27
28
29
30
31
November 2022
M
T
W
T
F
S
S
1
2
3
4
5
6
7
8
9
10
11
12
13
14
15
16
17
18
19
20
21
22
23
24
25
26
27
28
29
30
December 2022
M
T
W
T
F
S
S
1
2
3
4
5
6
7
8
9
10
11
12
13
14
15
16
17
18
19
20
21
22
23
24
25
26
27
28
29
30
31
January 2022
M
T
W
T
F
S
S
1
2
3
4
5
6
7
8
9
10
11
12
13
14
15
16
17
18
19
20
21
22
23
24
25
26
27
28
29
30
31
February 2022
M
T
W
T
F
S
S
1
2
3
4
5
6
7
8
9
10
11
12
13
14
15
16
17
18
19
20
21
22
23
24
25
26
27
28
March 2022
M
T
W
T
F
S
S
1
2
3
4
5
6
7
8
9
10
11
12
13
14
15
16
17
18
19
20
21
22
23
24
25
26
27
28
29
30
31
April 2022
M
T
W
T
F
S
S
1
2
3
4
5
6
7
8
9
10
11
12
13
14
15
16
17
18
19
20
21
22
23
24
25
26
27
28
29
30
May 2022
M
T
W
T
F
S
S
1
2
3
4
5
6
7
8
9
10
11
12
13
14
15
16
17
18
19
20
21
22
23
24
25
26
27
28
29
30
31
June 2022
M
T
W
T
F
S
S
1
2
3
4
5
6
7
8
9
10
11
12
13
14
15
16
17
18
19
20
21
22
23
24
25
26
27
28
29
30
July 2022
M
T
W
T
F
S
S
1
2
3
4
5
6
7
8
9
10
11
12
13
14
15
16
17
18
19
20
21
22
23
24
25
26
27
28
29
30
31
August 2022
M
T
W
T
F
S
S
1
2
3
4
5
6
7
8
9
10
11
12
13
14
15
16
17
18
19
20
21
22
23
24
25
26
27
28
29
30
31
September 2022
M
T
W
T
F
S
S
1
2
3
4
5
6
7
8
9
10
11
12
13
14
15
16
17
18
19
20
21
22
23
24
25
26
27
28
29
30
October 2022
M
T
W
T
F
S
S
1
2
3
4
5
6
7
8
9
10
11
12
13
14
15
16
17
18
19
20
21
22
23
24
25
26
27
28
29
30
31
November 2022
M
T
W
T
F
S
S
1
2
3
4
5
6
7
8
9
10
11
12
13
14
15
16
17
18
19
20
21
22
23
24
25
26
27
28
29
30
December 2022
M
T
W
T
F
S
S
1
2
3
4
5
6
7
8
9
10
11
12
13
14
15
16
17
18
19
20
21
22
23
24
25
26
27
28
29
30
31
---
Guestbook Reviews
Amazing, wonderful house, perfect hosts and beautiful location. Stayed for two nights but will definitely come back for longer next time. Thank you!! – Megan
---
Location