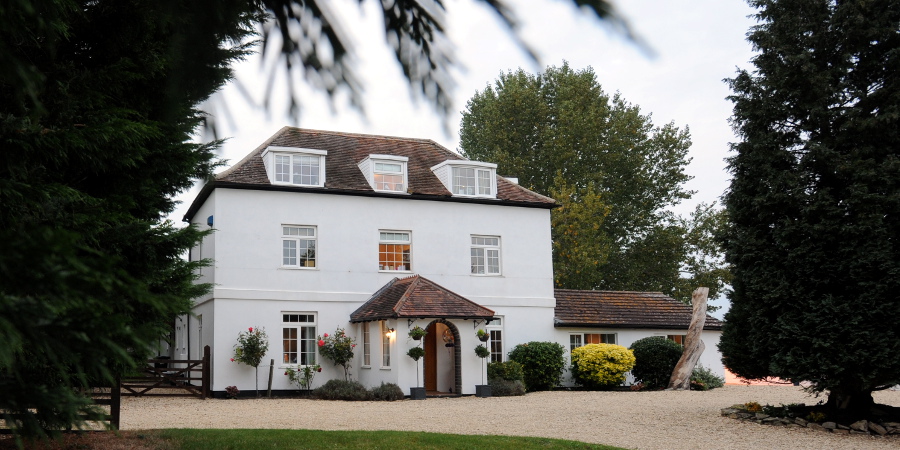 About this property
Location: Nr Gloucester. 9 bedrooms, 6 bath/shower rooms, 2 cloakrooms, sleeps up to 35 guests. A stunning riverside property with indoor heated pool and games room. Perfect party house to rent for hen and stag parties, birthday parties, family celebrations and friend's get-togethers.
This handsome and substantial house is beautifully furnished throughout. Set in half an acre with fantastic views across the river Severn where you can watch the famous Severn Bore. Approached via a gravelled driveway, with electric gates and security, there is ample off road parking.
Gallery
---
---
Accommodation…
In the main house downstairs the entrance hall leads into four reception rooms including a sitting room with wood burning stove, dining room and a kitchen/breakfast room. There are six bath/shower rooms, two cloakrooms and nine bedrooms.
A shower room is in the ground floor bedroom for guests who cannot use the stairs. The heated indoor swimming pool has French doors opening to the garden.
There is a separate annexe with a games room upstairs including table tennis, pool table and table football and bluetooth sound system. Downstairs is a Cinema Room with 75″ screen with shower room and additional sleeping for two guests.
The sleeping accommodation is as follows:
The Main House
Ground Floor
1. Double bed with double sofa bed. Ensuite shower room with separate WC and basin
1st Floor
2. Grey bedroom – Double bed
Large shower room with WC and basin
3. Orange bedroom – Twin or superking with one single bed
2nd Floor
4. Beige bedroom – Superking or twin beds
5. Red bedroom – Master suite, Superking or twin beds
West wing
Ground floor WC and basin
6. Blue bedroom – Double bedroom
Bath with shower room WC and basin
7. Twin beds or large double
8. Big brother style dorm – 11 singles or super king with 9sm singles. Large ensuite shower room with bath WC and basin
The lodge
9. Cinema room can double up as a suite with double bed, L shape sofa to sleep a further two guests. Ensuite shower room
Games room – Has two single sofa beds
Outside…
Set within half an acre of private gardens with access to the River Severn, guests can fish from the river bank, this requires a rod licence which is easy to obtain from the post office. The house is excellently located for watching the famous Severn Bore, you can check out the tide times here.
Marquee hire is available at an extra charge.
---
All Rooms Are Supplied With…
Linen and bath towels
Facilities Include…
Indoor Heated Swimming Pool with Bluetooth Sound System – robes, slippers, pool towels and fun inflatables provided
Games Room with Bluetooth Sound System
Microwave
Two Dishwashers
Washing Machine
Tumble Dryer
Hair Dryers
Sky Full Package
Wifi
Woodburner in lounge
BBQ
Garden Furniture
Private car parking for up to 15 cars
Restrictions…
Pets are negotiable
No Smoking
Services On Request…
Why not order your groceries on-line and have them delivered to the house prior to your arrival. We will take delivery of your shopping and unpack it all for you at no extra charge.
On your arrival we can supply a celebration balloon arrangement with a bottle of bubbly and chocolates to welcome you.
---
Catering

The Tobooka Private Chef Experience – Bring the UK's top private chefs into your kitchen for a dining experience to remember. Whether you're looking to book one special meal or hire a chef for the whole weekend, Tobooka will find the perfect chef for your occasion and to suit any budget.


The Dineindulge Private Chef Service – "The Private Dining Experience for Everyone"
Dineindulge offers a unique private dining experience brought direct to you. Combining a personal chef hire service with restaurant quality cuisine at an affordable price.
Activities At Your House

Bring Activities To Your House Whether you want to bring axe throwing to your garden or gin tasting to your living room, Tobooka will help you organise the best activities to make your stay one to remember.

Pricing for PMHouse024
Guideline pricing for adult guests, there is flexibility where groups include children
To Sleep 26
October to March (excluding Christmas and New Year)
2 night weekend – £3,750
3 night weekend – £4,250
2 nights midweek – £2,850
3 nights midweek – £3,350
4 nights midweek – £4,000
Week stay Friday to Friday – £6,250
April to June
2 night weekend – £4,595
3 night weekend – £5,095
2 nights midweek – £3,000
3 nights midweek – £3,650
4 nights midweek – £4,250
Week stay Friday to Friday – £7,550
July to September
2 night weekend – £4,950
3 night weekend – £5,450
2 nights midweek – £3,000
3 nights midweek – £3,950
4 nights midweek – £4,500
Week stay Friday to Friday – £8,450
Please be aware we are always happy to discuss pricing as this is a very individual property that offers superb accommodation for various group sizes from 10 to 35 people. Cazz will discuss clients' budget and requirements.
MIDWEEK STAYS
January to April
8 to 12 group size
2 nights £1,800
3 nights £2,500
4 nights £3,450
13 to 20 group size
2 nights £2,500
3 nights £3,450
4 nights £4,100
May to October
8 to 12 group size
2 nights £2,300
3 nights £2,950
4 nights £3,750
13 to 20 group size
2 nights £2,800
3 nights £3,650
4 nights £4,250
Christmas & New Year – price on request
Week stay starts from £9,500 to £10,450
New year 3 nights – £8,750
Please call Cazz on 07966 443 536 for pricing.
Please note:
Additional guests charged at £50 per person per night for group sizes over 26
The pool and hot tub are charged extra at £300
£1,000 refundable damage deposit is required
There is a minimum two night stay at weekends – one night can be booked but will be charged for two nights
Please call Cazz on 07966 443 536 or use the contact form to confirm availability and pricing
Contact Us
---
Availability for PMHouse024
January 2020
M
T
W
T
F
S
S
1
2
3
4
5
6
7
8
9
10
11
12
13
14
15
16
17
18
19
20
21
22
23
24
25
26
27
28
29
30
31
February 2020
M
T
W
T
F
S
S
1
2
3
4
5
6
7
8
9
10
11
12
13
14
15
16
17
18
19
20
21
22
23
24
25
26
27
28
29
March 2020
M
T
W
T
F
S
S
1
2
3
4
5
6
7
8
9
10
11
12
13
14
15
16
17
18
19
20
21
22
23
24
25
26
27
28
29
30
31
April 2020
M
T
W
T
F
S
S
1
2
3
4
5
6
7
8
9
10
11
12
13
14
15
16
17
18
19
20
21
22
23
24
25
26
27
28
29
30
May 2020
M
T
W
T
F
S
S
1
2
3
4
5
6
7
8
9
10
11
12
13
14
15
16
17
18
19
20
21
22
23
24
25
26
27
28
29
30
31
June 2020
M
T
W
T
F
S
S
1
2
3
4
5
6
7
8
9
10
11
12
13
14
15
16
17
18
19
20
21
22
23
24
25
26
27
28
29
30
July 2020
M
T
W
T
F
S
S
1
2
3
4
5
6
7
8
9
10
11
12
13
14
15
16
17
18
19
20
21
22
23
24
25
26
27
28
29
30
31
August 2020
M
T
W
T
F
S
S
1
2
3
4
5
6
7
8
9
10
11
12
13
14
15
16
17
18
19
20
21
22
23
24
25
26
27
28
29
30
31
September 2020
M
T
W
T
F
S
S
1
2
3
4
5
6
7
8
9
10
11
12
13
14
15
16
17
18
19
20
21
22
23
24
25
26
27
28
29
30
October 2020
M
T
W
T
F
S
S
1
2
3
4
5
6
7
8
9
10
11
12
13
14
15
16
17
18
19
20
21
22
23
24
25
26
27
28
29
30
31
November 2020
M
T
W
T
F
S
S
1
2
3
4
5
6
7
8
9
10
11
12
13
14
15
16
17
18
19
20
21
22
23
24
25
26
27
28
29
30
December 2020
M
T
W
T
F
S
S
1
2
3
4
5
6
7
8
9
10
11
12
13
14
15
16
17
18
19
20
21
22
23
24
25
26
27
28
29
30
31
January 2021
M
T
W
T
F
S
S
1
2
3
4
5
6
7
8
9
10
11
12
13
14
15
16
17
18
19
20
21
22
23
24
25
26
27
28
29
30
31
February 2021
M
T
W
T
F
S
S
1
2
3
4
5
6
7
8
9
10
11
12
13
14
15
16
17
18
19
20
21
22
23
24
25
26
27
28
March 2021
M
T
W
T
F
S
S
1
2
3
4
5
6
7
8
9
10
11
12
13
14
15
16
17
18
19
20
21
22
23
24
25
26
27
28
29
30
31
April 2021
M
T
W
T
F
S
S
1
2
3
4
5
6
7
8
9
10
11
12
13
14
15
16
17
18
19
20
21
22
23
24
25
26
27
28
29
30
May 2021
M
T
W
T
F
S
S
1
2
3
4
5
6
7
8
9
10
11
12
13
14
15
16
17
18
19
20
21
22
23
24
25
26
27
28
29
30
31
June 2021
M
T
W
T
F
S
S
1
2
3
4
5
6
7
8
9
10
11
12
13
14
15
16
17
18
19
20
21
22
23
24
25
26
27
28
29
30
July 2021
M
T
W
T
F
S
S
1
2
3
4
5
6
7
8
9
10
11
12
13
14
15
16
17
18
19
20
21
22
23
24
25
26
27
28
29
30
31
August 2021
M
T
W
T
F
S
S
1
2
3
4
5
6
7
8
9
10
11
12
13
14
15
16
17
18
19
20
21
22
23
24
25
26
27
28
29
30
31
September 2021
M
T
W
T
F
S
S
1
2
3
4
5
6
7
8
9
10
11
12
13
14
15
16
17
18
19
20
21
22
23
24
25
26
27
28
29
30
October 2021
M
T
W
T
F
S
S
1
2
3
4
5
6
7
8
9
10
11
12
13
14
15
16
17
18
19
20
21
22
23
24
25
26
27
28
29
30
31
November 2021
M
T
W
T
F
S
S
1
2
3
4
5
6
7
8
9
10
11
12
13
14
15
16
17
18
19
20
21
22
23
24
25
26
27
28
29
30
December 2021
M
T
W
T
F
S
S
1
2
3
4
5
6
7
8
9
10
11
12
13
14
15
16
17
18
19
20
21
22
23
24
25
26
27
28
29
30
31
Wonderful place for a gathering to celebrate a special Birthday. Something for everyone from 6 months to 60+. The Severn Bore was a Bonus!!
S. Malyon 60th Birthday, 8th- 10th April 2016
Fantastic weekend! The house is beautiful, all we wanted and more!!
A. Anthony, 1st April – 3rd April 2016
This house was perfect! Beautiful surroundings, cosy living room, fun pool, dining room perfect for entertaining!
Kate Hen Weekend 2016
What a fantastic house, so big, beautifully done, everything you needed for 17 men, will be back again.
Rich Stag Weekend 2016
Cazz what a fabulous house! We have had such a good weekend, and everyone thoroughly enjoyed it. Thank you for everything.
Sarah Hen Weekend 2016
We are a group of 20 adults and 7 kids aged from 3 months to 70 years and all of us had such a wonderful time! Cazz took the time to understand our requirements and tailored the whole experience to make our stay a very comfortable one. All of us were in awe at how beautiful the place was and immediately knew that it was a perfect fit for us. We were welcomed with balloons and champagne- what a way to start off the holiday!
In a nutshell, the property was stunning from the outside and just as stunning within. It was immaculate and had everything we needed, a pure luxury. The property is furnished to an exceptional standard and fully equipped with everything you would require. The location is just breathtaking and the views of the river from the bedrooms, the sun was shining and we knew it would be a wonderful weekend.
The kitchen has everything you need to cater for a large group & bonus facilities such as the dishwasher, washing room were just what we needed.
The back yard is spacious too with a game room with snooker, table tennis and plenty of board games! The top highlight of the property is the indoor heated pool! Cazz has done amazing work keeping it to a 5 star quality! The group did not want to do any sightseeing and spent most of the time chilling in the pool!
This holiday completely exceeded my expectations. We all agreed that it was the best and we don't think we could have possibly found a better place. If you are looking for a weekend getaway or a week off, then look no further. I would give this beautiful property a 5 Star! I would highly recommend this property to family, friends and colleagues and I am sure we will return when the opportunity arises.Thanks again Cazz!
Sajini August 2015
Fabulous house, perfect for a stag party, we had a fantastic time, thanks. – 23rd July weekend, David Wells Stag Group
Amazing House! Cazz was an amazing host and very welcoming, we had the best time and I'm sure we will be back! Will definitely recommend to others. Thank you so much! – Saranya Hen Party
Every year a group of school friends come together for a weekend away (usually Center Parcs) with the view of catching up and having a good time. The RiverHouse was PERFECT for this, with enough to do within the house that we didn't have to go out but good local pubs and walks that we could venture out if we wanted to.
The house itself is beautiful and perfectly geared up for a large group with multiple double/twin rooms and a large dorm which although may sound hostel-like was very luxurious! The little touches that Cazz arranges for you and the lengths that she goes to to assist your stay is top class and made for a fantastic start to the weekend. The heated indoor pool with inflatables and the separate games room were fantastic for those feeling active, whilst others chose to relax in the beautiful lounge areas. There are endless cooking facilities there and you will not wish for anything.
I am so pleased we found this house and chose it as a difference to center parcs – we had such a lovely weekend and would recommend it to anyone! The pictures advertised do not do the place justice!
October 2015
We recently stayed at Riverside House for a birthday party and had the most amazing time. The indoor pool is lovely and warm with a deep end and inflatables that are a lot of fun. The billiards, ping pong and darts also kept all of the guests amused for hours.
The sleeping arrangements also worked really well, with the larger dorm room perfect for louder party people and the other end of the house ideal for those looking to grab 40 winks. Would highly recommend to anybody looking for somewhere to stay for a nice weekend away or longer.
Cazz made it very easy for us, even putting away all of our food before we arrived. Would definitely recommend and stay there again.
Charlie B August 2015
Thank you so much for opening your home to us, we've had a superb stay and have wonderful memories during our long weekend. You've been a wonderful host and wishing you every happiness and success for you and your family. – The Chauhan Family, 18th July stay – Family Gathering
Location