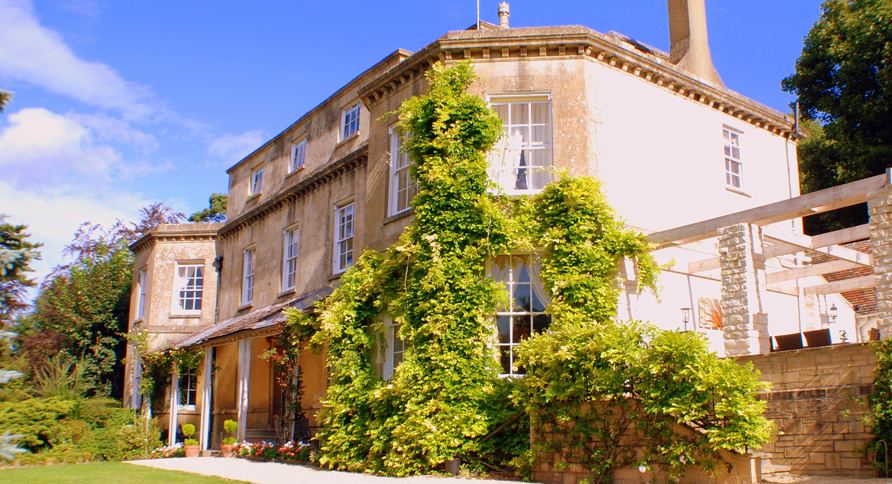 About this property
Location: Cotswolds. 9 bedrooms, 5 bathrooms, Sleeps up to 25. Two hours from London. A fine house for a landmark birthday party or family gathering, also a great location for a hen party or a small wedding reception for up to 40 guests.
A beautifully restored grade 2 listed Georgian house built of limestone ashlar under a slate tiled roof boasting many fine period features. Superbly situated, south facing, set in seven acres of delightful gardens, on the edge of Uley valley in the Cotswolds. A perfect house for celebrations and entertaining, with a new outdoor pool and cinema complex.
Gallery
---
---
Accommodation…
The accommodation is beautifully presented and combines perfect entertaining space with extensive family accommodation totalling 8136 square feet. The front of the house with its part glazed verandah faces south from its elevated position and overlooks the garden to wooded countryside beyond the town. The front door to the property opens into a long vestibule area, off which is a large cloakroom, and sweeps up into the main hallway. The principal reception rooms all face south, the music room and drawing room having beautiful bay windows, and the dining room and study having French doors to the garden. The drawing room displays a particularly fine carved stone fireplace sporting the Purnell crest. To the rear of the house lie the spacious kitchen and breakfast room with direct access through a glass gabled end to the contemporary courtyard, outside dining area and pool terrace. From here, you will find the south facing pool house, housing a cloakroom, shower room and spacious day room, with additional kitchen facilities.
The house has many historical connections, it is said to have been built in 1768 by the celebrated architect Anthony Keck, renowned for his work in the three counties of Gloucestershire, Worcestershire and Herefordshire between 1760 and 1790. The Manor is his earliest identifiable Gloucestershire country house, and he is associated with Highgrove, Berkeley Castle and Rodborough Manor to name just a few. The Manor was built for William Purnell, who received the estate as a coming of age present from his father.
More details
Check in is at 3pm Friday and check out on Sunday is 12 noon, we offer a bottle of bubbly and chocolates on arrival.
The pool is open from 1st May but may be opened earlier by arrangement if the weather is good.
Supplied with…
White crisp linen, towels, robes, slippers, hair dryers and bath and body products.
Services On Request…
Why not order your groceries on-line and have them delivered to the house prior to your arrival. We will take delivery of your shopping and unpack it all for you at no extra charge.
On your arrival we can supply a celebration balloon arrangement with a bottle of bubbly and chocolates to welcome you.
---
Catering

The Tobooka Private Chef Experience – Bring the UK's top private chefs into your kitchen for a dining experience to remember. Whether you're looking to book one special meal or hire a chef for the whole weekend, Tobooka will find the perfect chef for your occasion and to suit any budget.


The Dineindulge Private Chef Service – "The Private Dining Experience for Everyone"
Dineindulge offers a unique private dining experience brought direct to you. Combining a personal chef hire service with restaurant quality cuisine at an affordable price.
Activities At Your House

Bring Activities To Your House Whether you want to turn your evening into a murder mystery or treat yourselves to a gin tasting in your living room, Tobooka will help you organise the best activities to make your stay one to remember.

---
Pricing for PMHouse002
2018 prices
Christmas, New Year, Easter and Bank Holidays are at different rates to those shown below. Please contact us for details.
Spring/Summer – From 1st May to 31st October
Prices include the use of the pool
Groups up to 18 £5,475 for 3 nights
Groups up to 16 £4,988 for 3 nights
Groups up to 14 £4,500 for 3 nights
Autumn/Winter – From 1st November to 30th April
Groups up to 18 £3,400 for 3 nights
Groups up to 16 £3,075 for 3 nights
Groups up to 14 £2,750 for 3 nights
For groups larger than 18, there is an additional charge of £81.25 per person per night
Please note:
£1000 refundable damage deposit is required. There is an additional £150 Fixed Cleaning/Linen Charge to be added to the rates above (this rises to £200 for groups over 18 in number.)
Contact Us
---
Availability for PMH002
January 2020
M
T
W
T
F
S
S
1
2
3
4
5
6
7
8
9
10
11
12
13
14
15
16
17
18
19
20
21
22
23
24
25
26
27
28
29
30
31
February 2020
M
T
W
T
F
S
S
1
2
3
4
5
6
7
8
9
10
11
12
13
14
15
16
17
18
19
20
21
22
23
24
25
26
27
28
29
March 2020
M
T
W
T
F
S
S
1
2
3
4
5
6
7
8
9
10
11
12
13
14
15
16
17
18
19
20
21
22
23
24
25
26
27
28
29
30
31
April 2020
M
T
W
T
F
S
S
1
2
3
4
5
6
7
8
9
10
11
12
13
14
15
16
17
18
19
20
21
22
23
24
25
26
27
28
29
30
May 2020
M
T
W
T
F
S
S
1
2
3
4
5
6
7
8
9
10
11
12
13
14
15
16
17
18
19
20
21
22
23
24
25
26
27
28
29
30
31
June 2020
M
T
W
T
F
S
S
1
2
3
4
5
6
7
8
9
10
11
12
13
14
15
16
17
18
19
20
21
22
23
24
25
26
27
28
29
30
July 2020
M
T
W
T
F
S
S
1
2
3
4
5
6
7
8
9
10
11
12
13
14
15
16
17
18
19
20
21
22
23
24
25
26
27
28
29
30
31
August 2020
M
T
W
T
F
S
S
1
2
3
4
5
6
7
8
9
10
11
12
13
14
15
16
17
18
19
20
21
22
23
24
25
26
27
28
29
30
31
September 2020
M
T
W
T
F
S
S
1
2
3
4
5
6
7
8
9
10
11
12
13
14
15
16
17
18
19
20
21
22
23
24
25
26
27
28
29
30
October 2020
M
T
W
T
F
S
S
1
2
3
4
5
6
7
8
9
10
11
12
13
14
15
16
17
18
19
20
21
22
23
24
25
26
27
28
29
30
31
November 2020
M
T
W
T
F
S
S
1
2
3
4
5
6
7
8
9
10
11
12
13
14
15
16
17
18
19
20
21
22
23
24
25
26
27
28
29
30
December 2020
M
T
W
T
F
S
S
1
2
3
4
5
6
7
8
9
10
11
12
13
14
15
16
17
18
19
20
21
22
23
24
25
26
27
28
29
30
31
---
Guestbook Reviews
I recently stayed at the house for a weekend break with 16 friends and I couldn't recommend highly enough. The house is absolutely gorgeous. It's huge – and with 16 adults there was plenty of space for everyone. All of the bedrooms are equally gorgeous and the owners were really flexible in arranging bed configurations that worked for us. Steven and Candida were really helpful and welcoming on arrival – and the champagne and chocolates were a really lovely touch! In Winter, the open fires were lovely and the house was super cozy. The pool area was also amazing (closed in November), so I'm sure it would also be great in the summer. We organised local caterers to come in on the Saturday night and cook for us and there's a huge dining room table which was perfect. We also made arrangements to go racing in Cheltenham which is only about 30 mins from the house. The house is a little hard to find – so make sure you have a satnav! Would defnitely go back and highly recommend for big groups.
My sister and the special ladies in her life stayed at the house for her Hen weekend in October 2012. Having seen the photos and previous reviews, we were prepared for something special, but when we arrived all of our expectations were exceeded! The house is spectacular, with so much space and light; and the attention to detail is a credit to the owners, who were a real pleasure to deal with throughout. Each and every room is tastefully decorated and furnished, with all of the ladies agreeing that they would like the kitchen in their own homes! The extra little touches like slippers, robes and roses on each of the beds, as well as gifts and a card for my sister made us all feel special. Despite the house being incredibly spacious, it also feels cosy, homely and comfortable, which enabled us to unwind and relax. We were lucky enough to be able to use the pool, giving us the feeling that we could have been on holiday in the south of France. We didn't have much opportunity to explore the local area, but the surrounding countryside and scenery is breathtaking and we could imagine taking long walks, followed by a snooze in front of one of the roaring log fires! We are now all looking for an excuse to return in the not-too-distant future and rest-assured we will be back. Thank you so much Candida and Stephen for helping to make my sister's Hen weekend truly unforgettable.
Rent this house at least once in your lifetime. Experience the light, space and grandeur of a big old manor house, beautifully refurbished, and with all the modern accessories you could hope for. If you're a foodie, the kitchen and Aga Stove will delight!! Definitely a 5 star weekend, and the owners are genuinely committed to helping you enjoy their property.
It was the perfect place for me and 15 other mates to celebrate my friend's stag weekend.
Stephen and Candida were very helpful on our arrival and were great in keeping us up to date leading up to the weekend (through email). The house is huge and there were so many things to do or explore. The heated swimming pool was a big hit with us all, even in October time. Other bits we loved were playing table tennis, eating breakfast in the big dining room and the pool house was good for the stags PowerPoint slide show! We'd definitely recommend this house to anyone celebrating a special occasion.
We stayed here for a 30th birthday celebration with 15 of our friends. It was so perfect. A huge space with enough room for everyone. Lots of things to do both in the house and nearby. Everything was thought about – slippers and robes on each bed, toiletries, a balloon, card and champagne to wish happy birthday, games etc. it was fantastic. On one night we hired a chef to come and cook which was perfect. The dining room is great for a celebration meal and there's everything you need to make the table look beautiful. The owners were also a pleasure to deal with, really friendly and accommodating. I can't wait until I have an excuse to go back!
Never in our wildest dreams could we have expected it to be so fantastic. It was simply flawless, perfect amount of space for 18 people, if anything a little large as we kept sneaking off to find new things like the trampoline, the cows in the field near the outdoor seating area, the home cinema/pool room, the outdoor pool, the games room, the loungeroom. Every single room was incredibly well appointed with all anyone could ever need. The little touches really made the stay something extraordinary, the card from the owner wishing my partner a Happy Birthday, the chocolates, fresh cut roses with bathrobes and slippers and towels on every bed, the perfect amount of towels in the pool room.. The list goes on.. A sincere and very heartfelt thank you it was AMAZING!
We took the house for long weekend house party and were not disappointed. The house itself is very elegant with comfortable interiors, we were 15 in total and there were no poor rooms. Great weather allowed us to make the most of the lovely pool and outdoor spaces but I can see it as a great venue in winter too with the fires lit. The kitchen was well equipped and had everything you need to self cater. The owners were a delight to deal with and couldn't be more accomodating.
---