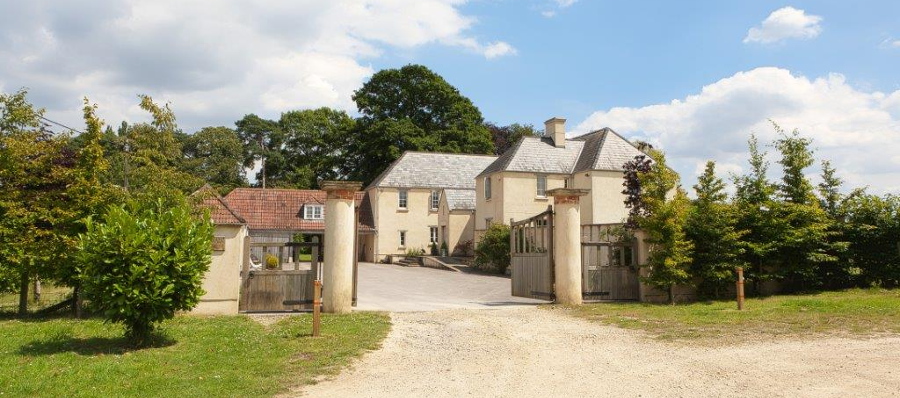 About this property
Location: Near Malmesbury, Wiltshire. 9 bedrooms, 5 bathrooms, sleeps 12-20 guests. An attractive house built in 2005 providing excellent modern living space with the feel of a traditional country house, with outdoor tennis court and games room. A great house for families, friends reunions, hen nights and milestone birthdays.
This house, which is set in approximately 10 acres, is surrounded by paddocks and farmland and is well-placed for exploring the many attractions of the South Cotswolds countryside as well as the elegant Regency city of Bath and its famous Spa. Malmesbury, Tetbury and the Highgrove shop, Badminton, Cirencester, Castle Combe and Westonbirt are all within easy driving distance.
Gallery
---
---
Accommodation…
The reception hall is full height to the eaves and provides access to all the reception rooms, it has a fine staircase rising to a balcony landing which overlooks the large hall. At the heart of the house is a fabulous open plan kitchen dining room with an electric Aga and open fireplace. There is a large drawing room with sliding doors from the kitchen and dining room area which can be opened to create a single 60 foot room, perfect for large groups.
Doors lead from the kitchen into the garden, which offers great views across the countryside.
There are four double rooms, two twin rooms, two triple rooms and a dorm room sleeping five with an overflow single bed on an attic landing.
There are five bathrooms (3 showers and 3 baths.)
---
What's included…
Linen, towels and essentials
Facilities Include…
Electric Aga, dishwasher, central island, large fridge/freezer
Freeview TV, Broadband and Wi-Fi
3 open fires: 1 in the kitchen, 1 in the Drawing room, 1 in the games room
Oil fired underfloor heating downstairs
There is wheelchair access downstairs, a ramp up to the front door and the doors are wide
Outside…
BBQ
Outside tables and chairs
All-weather tennis court
6 acres of grounds
Plenty of parking
Restrictions…
One well behaved dog by prior arrangement
No Smoking
Services On Request…
Why not order your groceries on-line and have them delivered to the house prior to your arrival. We will take delivery of your shopping and unpack it all for you at no extra charge.
On your arrival we can supply a celebration balloon arrangement with a bottle of bubbly and chocolates to welcome you.
Catering…

The Dineindulge Private Chef Service – "The Private Dining Experience for Everyone"
Dineindulge offers a unique private dining experience brought direct to you. Combining a personal chef hire service with restaurant quality cuisine at an affordable price.
Pricing for PMHouse034
Low Season – (January, February, March, April, October, November)
To sleep up to 12 guests
2 night weekend – £2,250
To sleep up to 15 guests
2 night weekend – £2,600
To sleep up to 20 guests
2 night weekend – £3,100
High Season – (May, June, July, August, September)
To sleep up to 12 guests
2 night weekend – £2,550
To sleep up to 15 guests
2 night weekend – £2,900
To sleep up to 20 guests
2 night weekend – £3,400
Christmas/New Year
Price on application, please call Cazz on 07966 443 536 for more details.
Please note:
£1,000 refundable damage deposit is required.
£150 cleaning charge.
There is a minimum two night stay at weekends – one night can be booked but will be charged for two nights.
Please call Cazz on 07966 443 536 or use the contact form to confirm availability and pricing.
Contact Us
---
Availability for PMHouse034
January 2020
M
T
W
T
F
S
S
1
2
3
4
5
6
7
8
9
10
11
12
13
14
15
16
17
18
19
20
21
22
23
24
25
26
27
28
29
30
31
February 2020
M
T
W
T
F
S
S
1
2
3
4
5
6
7
8
9
10
11
12
13
14
15
16
17
18
19
20
21
22
23
24
25
26
27
28
29
March 2020
M
T
W
T
F
S
S
1
2
3
4
5
6
7
8
9
10
11
12
13
14
15
16
17
18
19
20
21
22
23
24
25
26
27
28
29
30
31
April 2020
M
T
W
T
F
S
S
1
2
3
4
5
6
7
8
9
10
11
12
13
14
15
16
17
18
19
20
21
22
23
24
25
26
27
28
29
30
May 2020
M
T
W
T
F
S
S
1
2
3
4
5
6
7
8
9
10
11
12
13
14
15
16
17
18
19
20
21
22
23
24
25
26
27
28
29
30
31
June 2020
M
T
W
T
F
S
S
1
2
3
4
5
6
7
8
9
10
11
12
13
14
15
16
17
18
19
20
21
22
23
24
25
26
27
28
29
30
July 2020
M
T
W
T
F
S
S
1
2
3
4
5
6
7
8
9
10
11
12
13
14
15
16
17
18
19
20
21
22
23
24
25
26
27
28
29
30
31
August 2020
M
T
W
T
F
S
S
1
2
3
4
5
6
7
8
9
10
11
12
13
14
15
16
17
18
19
20
21
22
23
24
25
26
27
28
29
30
31
September 2020
M
T
W
T
F
S
S
1
2
3
4
5
6
7
8
9
10
11
12
13
14
15
16
17
18
19
20
21
22
23
24
25
26
27
28
29
30
October 2020
M
T
W
T
F
S
S
1
2
3
4
5
6
7
8
9
10
11
12
13
14
15
16
17
18
19
20
21
22
23
24
25
26
27
28
29
30
31
November 2020
M
T
W
T
F
S
S
1
2
3
4
5
6
7
8
9
10
11
12
13
14
15
16
17
18
19
20
21
22
23
24
25
26
27
28
29
30
December 2020
M
T
W
T
F
S
S
1
2
3
4
5
6
7
8
9
10
11
12
13
14
15
16
17
18
19
20
21
22
23
24
25
26
27
28
29
30
31
January 2021
M
T
W
T
F
S
S
1
2
3
4
5
6
7
8
9
10
11
12
13
14
15
16
17
18
19
20
21
22
23
24
25
26
27
28
29
30
31
February 2021
M
T
W
T
F
S
S
1
2
3
4
5
6
7
8
9
10
11
12
13
14
15
16
17
18
19
20
21
22
23
24
25
26
27
28
March 2021
M
T
W
T
F
S
S
1
2
3
4
5
6
7
8
9
10
11
12
13
14
15
16
17
18
19
20
21
22
23
24
25
26
27
28
29
30
31
April 2021
M
T
W
T
F
S
S
1
2
3
4
5
6
7
8
9
10
11
12
13
14
15
16
17
18
19
20
21
22
23
24
25
26
27
28
29
30
May 2021
M
T
W
T
F
S
S
1
2
3
4
5
6
7
8
9
10
11
12
13
14
15
16
17
18
19
20
21
22
23
24
25
26
27
28
29
30
31
June 2021
M
T
W
T
F
S
S
1
2
3
4
5
6
7
8
9
10
11
12
13
14
15
16
17
18
19
20
21
22
23
24
25
26
27
28
29
30
July 2021
M
T
W
T
F
S
S
1
2
3
4
5
6
7
8
9
10
11
12
13
14
15
16
17
18
19
20
21
22
23
24
25
26
27
28
29
30
31
August 2021
M
T
W
T
F
S
S
1
2
3
4
5
6
7
8
9
10
11
12
13
14
15
16
17
18
19
20
21
22
23
24
25
26
27
28
29
30
31
September 2021
M
T
W
T
F
S
S
1
2
3
4
5
6
7
8
9
10
11
12
13
14
15
16
17
18
19
20
21
22
23
24
25
26
27
28
29
30
October 2021
M
T
W
T
F
S
S
1
2
3
4
5
6
7
8
9
10
11
12
13
14
15
16
17
18
19
20
21
22
23
24
25
26
27
28
29
30
31
November 2021
M
T
W
T
F
S
S
1
2
3
4
5
6
7
8
9
10
11
12
13
14
15
16
17
18
19
20
21
22
23
24
25
26
27
28
29
30
December 2021
M
T
W
T
F
S
S
1
2
3
4
5
6
7
8
9
10
11
12
13
14
15
16
17
18
19
20
21
22
23
24
25
26
27
28
29
30
31
---
Guestbook Reviews
I would highly recommend this property. It's a great house for family celebrations and the owners are so kind and helpful. Loads of room and really well equipped with all the essentials. Had a fantastic week there and would definitely go back. Nothing negative to report. All my guests loved it too.
Linda – January 2018
This house is great. It was the perfect size for our party and everyone enjoyed the weekend. The kitchen and living area is perfect for a large number of people and worked well with the young children we had staying. The hosts were really helpful before our stay and also during our stay when we had questions about the house. I would highly recommend this house and hosts and hope to stay again at some point.
Lucy – January 2018
The property is outstanding. The kitchen & drawing room combination is one of the most homely and warming spaces in the property and was a focal point for our stay. Having an aga was a great perk too. The house is set in a great garden & location. The bedrooms/bathrooms were all comfortable and clean. I would definitely stay again and would encourage others to do so too.
Alexander – November 2017
This is a wonderful house that looks even better than the pictures. Eleven of us stayed here for a weekend and we had the best time . There is so much space for people to chill together or peel off to have some quiet time. And there's a very plush room with sofas and a fireplace. There are some nice walks nearby on public footpaths, plus a local pub (with skittles) just down the road. It really is an ideal group house.
Daisy – October 2017
This house was the ideal spot for mine and my friend's joint birthday celebrations; comfortably slept 11 of us and was perfect for game playing, home cooking, long walks and pub trips! Such great views and the kitchen/dining/living room was stunning. Some of us enjoyed the tennis court too which was brill and loved the cow neighbours! We would love to stay here again, very friendly and helpful hosts.
Laura – October 2017
We had a wonderful two days here. The house was perfect for our large gathering and had everything we needed plus some great touches. A beautiful house in a fabulous setting! Thank you!
Annie – October 2017
---
Location
Close to the South Cotswolds
5-10 mins from J17 M4
Malmesbury – 4 miles
Chippenham – 15 minutes by car
Kemble – 20 minutes by car
Bristol – 45 minutes by car
Heathrow is an hour plus depending on traffic