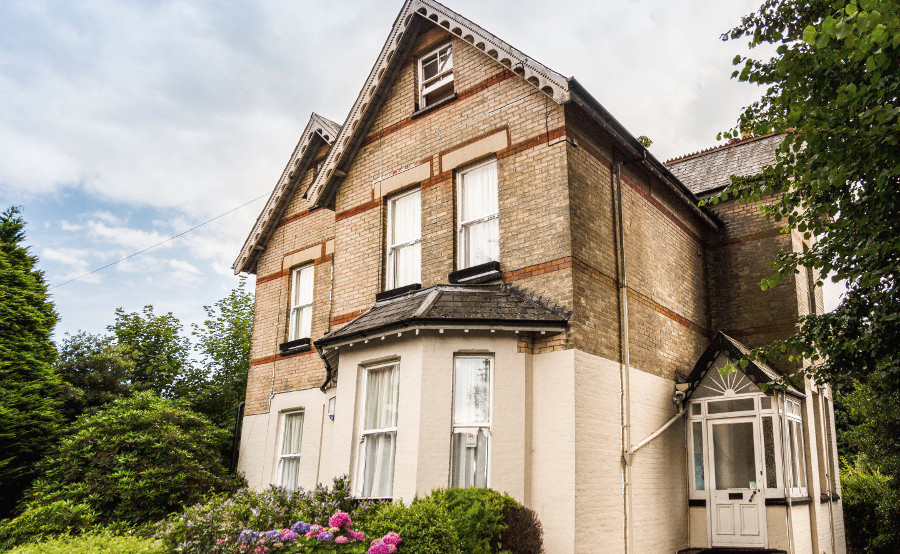 About this property
Location: Bournemouth. 10 bedrooms – 3 ensuite, 4 bathrooms, sleeps 28 guests. A classic modernised Victorian Villa, full of open spaces and ideal for large group bookings. Well-behaved Stag and Hen parties are also welcomed at the property, which can be booked for a long weekend or a week.

A large house, full of exciting features, to give the perfect solution for families and friends to gather together and enjoy a fabulous holiday by the sea. There is ample parking for seven cars and plenty of free-parking in the road.
Gallery
---
---
Accommodation…
This property is situated in its own grounds and comfortably sleeps up to 28 over the four floors. Just five minutes walk away from the award winning family friendly beach at Bournemouth and Boscombe, the house is also just two minutes away from the beautiful Boscombe Chine Gardens with their children's play areas, a mini golf course, a basketball court, a nature trail and a public art arena.
The property itself is light and spacious, with charming period Victorian touches and plenty of modern facilities, with a lovely warm and quality feel. An elegant winding staircase in the entrance hall, reveals the two-storey stained glass windows, the solid doors, attractive sash windows and tiled cast iron fireplaces in many of the bedrooms.
An enclosed garden at the rear of the property is a great place for alfresco dining and relaxing, with a four-ring gas BBQ and plenty of relaxing colourful garden chairs. There is also the option of a Lazy-Spa Jacuzzi Pool, at a small extra cost. The property also has its own full size American Pool table.
Only one mile from the town centre of Bournemouth, this area has become famous for its seaside water sports. The Coastal Activity Park at Boscombe Beach offers over 20 activities on the sea and sand, so there is always plenty to do for any type of party group and for all ages.
There are the traditional bucket-and-spade and deck-chair delights as Bournemouth Bay offers over seven miles of golden sands. A trip on the Land Train from Boscombe to Bournemouth Pier is a must, as there are some wonderful cliff views and plenty of choice to enjoy stop-offs in the tea rooms, ice cream parlours, cafés, traditional pubs and fish restaurants.
Then of course, there is the famous Bournemouth Night-Life, with streets full of restaurants, wine bars, cocktail bars, themed pubs and some amazing night clubs…so you can feast and party through the night.
The accommodation consists of:
The lower ground floor
• Bedroom 1: Large family room sleeping 6 with a double bed and 2 bunk beds
• Bedroom 2: Large family room sleeping 4 with a double bed and 1 bunk bed
• Bathroom 1: A bath and wash basin and a separate toilet
• The American Pool room with a full-sized 7ft pool table
• Commercial style kitchen with large oven cooker and two microwaves
• Utility Room with washing machine and a separate tumble dryer, hoovers, iron and board
• Then, an access door into the rear gardens
The ground floor and front entrance level
• Large ground floor hallway and staircase
• Spacious dining room seating up to 24
• Lounge with wide-screen digital TV, and a gas fireplace
• A ground floor toilet and washbasin
• Bedroom 3: An easy-access twin bedroom with an en-suite shower room and toilet
The 1st floor
• Bedroom 4: Twin bedroom with an en-suite shower room and toilet
• Bedroom 5: Two bunk beds, sleeping 4 people
• Bedroom 6: Large family room with three single beds
• Bedroom 7: Large family room sleeping 4 with a double bed, 1 bunk bed and en-suite bathroom
• Bathroom 2: A bath, a toilet and a wash basin
• Bathroom 3: A shower cubical and toilet
The 2nd floor
• Bedroom 8: Double bedroom with own wash basin
• Bedroom 9: Twin bedroom
• Bedroom 10: Twin bedroom
• Bathroom 4: A shower room, toilet and washbasin
• Kitchenette: Useful for large groups and midnight snacks!
---
All Rooms Are Supplied With…
Linen and bath towels
Restrictions…
Pets are negotiable
No Smoking
Services On Request…
We can help you to plan your weekend with help with your shopping, supply a BBQ and Breakfast Chef, or arrange some group activities, for example:
Jetski safari
Paddle boards
Jet packs
Rib rides
Yacht charter
Motorboat charter
Evening night club entry
In-house catering, drinks deliveries, food deliveries, BBQ chef
Facilities Include…
Games Room
Microwave, Dishwasher, Washing Machine, Tumble Dryer
Lazy-Spa Jacuzzi Pool
Broadband
BBQ, Garden Furniture
Plenty of private car parking spaces
Pricing for PMHouse028
To sleep 28 Guests
April, May, June, July, August and December
£2,900 for a two night stay
January, February, March, September, October and November
£2,400 for a two night stay
Additional Information
Please note:
£500 refundable damage deposit is required.
There is a minimum two night stay – one night can be booked but will be charged for two nights.
Please call Cazz on 07966 443 536 or use the contact form to confirm availability and pricing.
Contact Us
Availability for PMHouse028
January 2018
M
T
W
T
F
S
S
1
2
3
4
5
6
7
8
9
10
11
12
13
14
15
16
17
18
19
20
21
22
23
24
25
26
27
28
29
30
31
February 2018
M
T
W
T
F
S
S
1
2
3
4
5
6
7
8
9
10
11
12
13
14
15
16
17
18
19
20
21
22
23
24
25
26
27
28
March 2018
M
T
W
T
F
S
S
1
2
3
4
5
6
7
8
9
10
11
12
13
14
15
16
17
18
19
20
21
22
23
24
25
26
27
28
29
30
31
April 2018
M
T
W
T
F
S
S
1
2
3
4
5
6
7
8
9
10
11
12
13
14
15
16
17
18
19
20
21
22
23
24
25
26
27
28
29
30
May 2018
M
T
W
T
F
S
S
1
2
3
4
5
6
7
8
9
10
11
12
13
14
15
16
17
18
19
20
21
22
23
24
25
26
27
28
29
30
31
June 2018
M
T
W
T
F
S
S
1
2
3
4
5
6
7
8
9
10
11
12
13
14
15
16
17
18
19
20
21
22
23
24
25
26
27
28
29
30
July 2018
M
T
W
T
F
S
S
1
2
3
4
5
6
7
8
9
10
11
12
13
14
15
16
17
18
19
20
21
22
23
24
25
26
27
28
29
30
31
August 2018
M
T
W
T
F
S
S
1
2
3
4
5
6
7
8
9
10
11
12
13
14
15
16
17
18
19
20
21
22
23
24
25
26
27
28
29
30
31
September 2018
M
T
W
T
F
S
S
1
2
3
4
5
6
7
8
9
10
11
12
13
14
15
16
17
18
19
20
21
22
23
24
25
26
27
28
29
30
October 2018
M
T
W
T
F
S
S
1
2
3
4
5
6
7
8
9
10
11
12
13
14
15
16
17
18
19
20
21
22
23
24
25
26
27
28
29
30
31
November 2018
M
T
W
T
F
S
S
1
2
3
4
5
6
7
8
9
10
11
12
13
14
15
16
17
18
19
20
21
22
23
24
25
26
27
28
29
30
December 2018
M
T
W
T
F
S
S
1
2
3
4
5
6
7
8
9
10
11
12
13
14
15
16
17
18
19
20
21
22
23
24
25
26
27
28
29
30
31
Guestbook Reviews
We stayed here for three nights whilst visiting Bournemouth. Ideal location for both Boscombe and Bournemouth. Bus stop is less than a two minute walk. Ten minute walk to Boscombe pier. Great. Friendly owner. No complaints, highly recommend it.
Lucivole
We spent two nights here, it is ideally situated just a ten minute walk through the gardens to the excellent sea front. Would recommend.
Jennie H
The room was spacious and beautifully decorated; the house is well located (only separated from the beach by a nice garden). We stayed here for two nights, and the host was very kind and welcoming.
Lorraine W
Brilliant find, a real gem of a place. Spacious well decorated rooms, plenty of free parking, excellent and a host who cannot do enough for you. I would definitely book again.
Michael P
Location
Bournemouth Town Centre – 1 mile