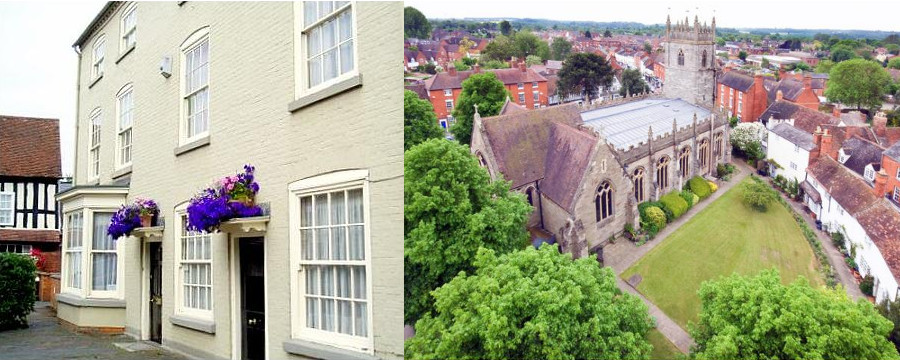 About this property
Location: Alcester, Warwickshire. 10 bedrooms, sleeps 23 guests. 8 miles from Stratford on Avon
This spacious property is situated in the heart of Alcester's town centre and historic conservation area. It is a substantial double-fronted property on the street facing the old Town Hall and Parish Church, with many shops, cafes, pubs and restaurants right on the doorstep. Originating in the 14th century, this handsome town house was once a large brewery. It is now a fabulous holiday home for a larger family group. The interior is a delight, furnished with antique furniture and filled with interesting period and quirky architectural features. The accommodation is spread over several floors of the property and it is an unusual house to experience.
On arrival why not relax in the secluded courtyard and admire the flowers, perhaps take a glass of wine and wander down through the enchanting foliage and plants which opens up to a stunning garden leading down to the river Arrow and open countryside beyond.
Gallery
---
---
Accommodation…
GROUND FLOOR
Period entrance hall. Large sitting room with imposing 15th-century stone fireplace. Large dining room. Well-equipped kitchen with glazed door to courtyard. Bathroom with shower attachment and toilet.
FIRST FLOOR
Double bedroom with 5ft bed. Large double bedroom with sitting area. Large twin bedroom with sitting area. Further twin bedroom. Family bathroom with bath with shower attachment. Two shower rooms. Separate toilet.
SECOND FLOOR
Large double bedroom with 5ft bed. Further double bedroom. Two twin bedrooms. Bathroom with over-bath shower and toilet. Separate toilet with bidet. Separate second floor suite: Twin bedroom with en-suite and shower and toilet. Single bedroom with en-suite with over-bath shower and toilet.
There is a cottage located to the rear of the house in the garden and can be booked separately as further accommodation for a larger family group.
GARDENS
Courtyards with terraces and furniture, shared grounds with walled garden leading to the river.
SWIMMING POOL
Heated, indoor swimming pool available to hire exclusively by separate arrangement.
All Rooms Are Supplied With…
Interior Sprung Beds
Summer/Winter Duvets
Linen and bath towels
Restrictions…
No pets
No smoking in the property
Hen and Stag parties considered
Facilities Include…
Central Heating
Open Fire
Oven/Hob, Microwave, Toaster, Dishwasher, Fridge
Iron/Ironing Board, Washing Machine, Tumble Drier, Vacuum Cleaner
Childs Cot + High Chair
WIFI
Music System CD/Radio
Selection of DVD's, Books, Games
BBQ, Enclosed Gardens, Patio Area, Garden Funiture
Safe Parking for 10 cars
---
Things to Do…
Warwick Castle, Kenilworth Castle, West Midlands Safari Park
NEC Birmingham
Cheltenham is only one hour away by car, Cheltenham Race Course
Warwick Race Course, Stratford Race Course
Ragley Hall, Alcester Museum, Coughton Court
Draycote Sailing Club
Stratford Butterfly Farm
River Fishing
Silverstone Circuit
Bowling green available by prior arrangement
There are plenty of pubs, restaurants and shops within easy walking distance
Pricing for PMHouse020
Please contact us for pricing
Contact Us
---
Availability for PMHouse020
January 2018
M
T
W
T
F
S
S
1
2
3
4
5
6
7
8
9
10
11
12
13
14
15
16
17
18
19
20
21
22
23
24
25
26
27
28
29
30
31
February 2018
M
T
W
T
F
S
S
1
2
3
4
5
6
7
8
9
10
11
12
13
14
15
16
17
18
19
20
21
22
23
24
25
26
27
28
March 2018
M
T
W
T
F
S
S
1
2
3
4
5
6
7
8
9
10
11
12
13
14
15
16
17
18
19
20
21
22
23
24
25
26
27
28
29
30
31
April 2018
M
T
W
T
F
S
S
1
2
3
4
5
6
7
8
9
10
11
12
13
14
15
16
17
18
19
20
21
22
23
24
25
26
27
28
29
30
May 2018
M
T
W
T
F
S
S
1
2
3
4
5
6
7
8
9
10
11
12
13
14
15
16
17
18
19
20
21
22
23
24
25
26
27
28
29
30
31
June 2018
M
T
W
T
F
S
S
1
2
3
4
5
6
7
8
9
10
11
12
13
14
15
16
17
18
19
20
21
22
23
24
25
26
27
28
29
30
July 2018
M
T
W
T
F
S
S
1
2
3
4
5
6
7
8
9
10
11
12
13
14
15
16
17
18
19
20
21
22
23
24
25
26
27
28
29
30
31
August 2018
M
T
W
T
F
S
S
1
2
3
4
5
6
7
8
9
10
11
12
13
14
15
16
17
18
19
20
21
22
23
24
25
26
27
28
29
30
31
September 2018
M
T
W
T
F
S
S
1
2
3
4
5
6
7
8
9
10
11
12
13
14
15
16
17
18
19
20
21
22
23
24
25
26
27
28
29
30
October 2018
M
T
W
T
F
S
S
1
2
3
4
5
6
7
8
9
10
11
12
13
14
15
16
17
18
19
20
21
22
23
24
25
26
27
28
29
30
31
November 2018
M
T
W
T
F
S
S
1
2
3
4
5
6
7
8
9
10
11
12
13
14
15
16
17
18
19
20
21
22
23
24
25
26
27
28
29
30
December 2018
M
T
W
T
F
S
S
1
2
3
4
5
6
7
8
9
10
11
12
13
14
15
16
17
18
19
20
21
22
23
24
25
26
27
28
29
30
31
---
Guestbook Reviews
We recently stayed here over New Year's Eve and everyone had a wonderful time! The house is beautiful, lots of lovely authentic features and the owners have obviously taken time to ensure you have everything you need – it was also spotless! Lovely large dining room and sitting room with plenty of space for the 13 of us to eat and relax in comfort! The kitchen is small but very well equipped and we had no problems preparing and cooking the New Year's feast! Despite the cold weather we also made use of the lovely courtyard to the rear of the house which would be fantastic in the summer months. There are plenty of bathrooms, comfy beds and lovely soft towels! The town is delightful with lots to do right on the doorstep and the local people were warm and welcoming everywhere we went! I would highly recommend a visit!
Liz P – London UK
This old (1400's) house in the heart of Alcester is a wonderful location for exploring the area — Warwick Castle, Stratford on Avon, etc. The village is charming and the house is large enough for 2-3 families. The owners live on site and provided excellent service. Free wifi. A lovely garden and off-street parking.
Rob Hyndman – Melbourne Australia
We've stayed here twice and have found it great for meeting up with friends. the house is lovely and although the kitchen is small we managed OK. The town is nice and within easy reach.
Mary – Knitsbridge, UK
Beautiful Georgian home with great history and character. A must for anyone seeking quality with old world charm and antiquity. I enjoyed a very warm reception and exceptional accommodation.
Sean – Devon
We stayed two nights and can fully recommend this very old and beautiful house with a lovely garden and facilities like an excellent private home. The owners are very kind people and most helpful.
Lief Erland – Birkerød, Danmark
I stayed here in October with a group of friends. The house itself is brimming with character, is an excellent space for large groups and we thought very good value. Everything was spotlessly clean, the beds were comfortable and the towels big, white and fluffy. The house is perfectly positioned in the centre of Alcester, which is a really nice town with plenty of pubs and places to eat.
Nicola Hill – London, UK
We have just returned from a superb weekend, celebrating a 90th birthday. We had 17 people in the house over the weekend and everyone commented on what an excellent venue it was.
Andy D – Connel, UK
After a horrible couple of weeks at work this was the perfect relaxing location. there's a lovely fireplace and it's so peaceful the owners are friendly and helpful but aren't bothering you every 5 minutes. The cottage is comfy and well equiped. The village is a 5 minute walk away and the shopkeepers are so enthusiastic about the place. I am so going back.
Hayley P – Telford, UK
Location
The property is situated in the heart of the lovely market town of Alcester in Warwickshire
Birmingham city centre – 40 minutes
Birmingham Airport – 30 minutes
Coventry Airport – 30 minutes
Stratford upon Avon – 15 minutes
Cheltenham – 60 minutes