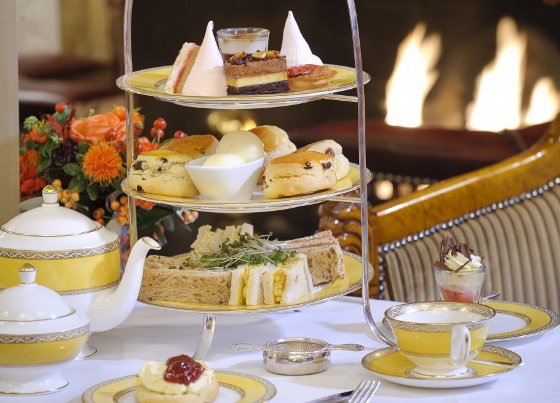 Afternoon Tea is a meal that evolved into the light snack that we know today with the introduction of tea to the royal court by King Charles the second's wife in the 1600's. By the 1740's it had become the fashionable breakfast drink and in the mid 1840's Anna Maria Russell, the Duchess of Bedford famously claimed to be the creator of the afternoon tea when visiting the 5th Duke of Rutland at Belvoir Castle. By this time in the 19th century, the usual time for the evening meal was between 7.00 and 8.30pm. A light meal called luncheon had been created to satisfy the midday hunger between breakfast and dinner, but the long time between these meals left the Duchess feeling hungry around 4.00pm. During her stay with the Duke of Rutland, she asked that a tray of tea, bread and butter and cake be brought to her room during the late afternoon and she found this to be such a perfect refreshment that she soon began inviting her friends to join her in her rooms at Woburn Abbey her home, to discuss news and stories over tea and light refreshments, and gradually afternoon tea became an established and fashionable meal in many middle and upper class households.
Typically taken between 4.00pm and 6.00pm, the ingredients of a traditional afternoon tea comprise of a pot of loose leaf tea (naturally) together with small, dainty sandwiches; typical fillings are cucumber, egg and cress, fish paste, ham and smoked salmon, followed by cakes and pastries which are usually served on a tiered stand. A pot of hot water is usually provided to dilute over-brewed tea if necessary.
There are certain rules of etiquette for an authentic afternoon tea, the person nearest the pot should pour for everyone. The tea is poured first, this was a way to test the quality of the china being used, lower quality china would be cracked by hot tea. The pouring of the tea is followed by adding sugar and then the milk or lemon is added to the cup. The lemon is served in thin slices on a tea plate and if required should be added using a small fork.
A traditional afternoon tea party is all about relaxing with friends and family much like Anna the Duchess of Bedford did all those years ago. So when hiring one of our houses for a get-together, as well as those hearty breakfasts and lavish evening meals for everyone, why not take the time to have a traditional afternoon tea, we can organize specialist catering so all you have to do is gather round and pour the tea.
Sources: Wikipedia, www.historic-uk.com, twinings.co.uk